France rail strike halts many trains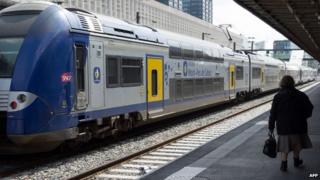 A nationwide strike by train staff in France has halted many rail services and is set to run into the weekend.
The strike began on Tuesday and is one of the longest to hit the railways. It has halted about half of inter-city trains and even more local trains.
Trade unions object to a government plan to unite the SNCF train operator with the RFF railway network. Workers fear the reform will mean job losses.
The strike could affect students who will shortly sit school-leaving exams.
The Eurostar service via the Channel Tunnel is unaffected so far.
The French President, Francois Hollande, has urged the unions to go back to work. But the unions say the proposed merger of SNCF and RFF operations does not go far enough, and they want the government to take on the two firms' combined debt of 40bn euros (£32bn; $54bn).