Bamberski guilty of ordering daughter's killer's kidnapping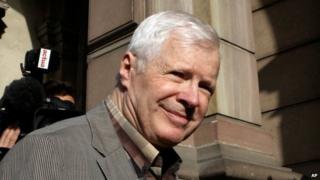 A court in Paris has given Frenchman Andre Bamberski a one-year suspended jail sentence for ordering the abduction of his daughter's killer.
Bamberski's daughter Kalinka died more than 30 years ago in Germany.
In 2011 a French court found Kalinka's stepfather Dieter Krombach guilty of drugging her and causing her to die of suffocation.
Bamberski arranged for Krombach to be kidnapped and taken to France in 2009 after Germany refused to extradite him.
Kalinka Bamberski died in July 1982 in Lindau in Bavaria where she had been spending her summer holiday with her mother and stepfather.
The case had divided French and German investigators.
German prosecutors dropped the case against Krombach, deciding the death was accidental.
But, in 2011 Krombach was found guilty of "wilful violence leading to death without intent" and was sentenced to 15 years in prison.
Bamberski had waged a long campaign for justice for his daughter, pursuing Krombach ever since Kalinka's death.
In October 2009, Krombach was found, his head bleeding and his hands and feet bound, outside the prosecutor's office in Mulhouse, close to the German border.
Bamberski, a retired accountant, had previously told the BBC last year that he had consented to the stepfather's abduction although he had not carried it out himself.