Germany reports 20% rise in attacks on foreigners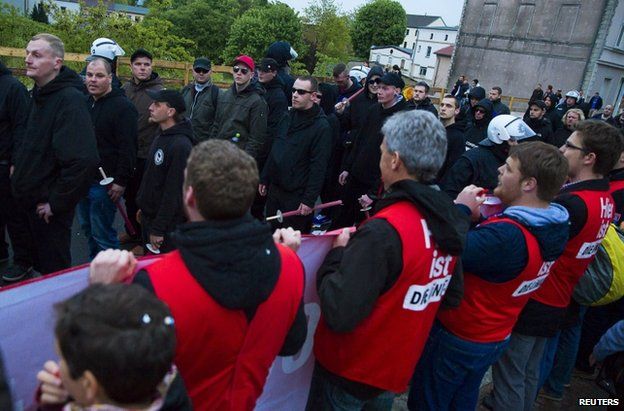 Attacks on foreigners in Germany rose by a fifth in 2013 while the threat from Islamist groups continued to grow, according to official figures.
Anti-foreigner attacks by the far right rose by 20.4% to 473, compared with 393 in 2012, Interior Minister Thomas de Maiziere told reporters in Berlin.
There was concern that a rise in political asylum applications was being exploited by extremists, he said.
He said that more than 270 Islamists had travelled from Germany to Syria.
"As of early 2014, more than 270 German Islamists or Islamists from Germany had travelled to Syria to take part in combat or to support, in one way or another, the resistance to the regime of [President Bashar al-] Assad, a trend that is not about to end," the minister said.
The domestic intelligence agency's annual report - available in English as a download - on domestic radicalism found a small drop in numbers of far-right extremists, from 22,150 to 21,700. The number of far-right extremists prepared to use violence remained stable at 9,600.
Last year, the country recorded an increase in the number of Islamic extremists from 42,550 to 43,190, while the number of left-wing extremists fell slightly, from 29,700 to 28,500.
Net immigration to Germany, the richest and most populous country in the EU, rose by more than 18% in 2013, its highest level in 20 years.
This was largely made up of migrants from eurozone states such as Italy and Spain, as well as from eastern Europe.
The country announced last week it would double the number of Syrian refugees it takes in to 20,000.
"It worries me greatly that the right-wing scene constantly tries to poison the atmosphere towards foreigners, by stoking fears and prejudices against asylum seekers," Mr de Maiziere said.
Germany seeks to suppress far-right with laws banning symbols from its Nazi past.
The success of a far-right party, the National Democratic Party (NPD), in electing a deputy to the European Parliament last month shocked many.
The Islamist threat is a concern shared by other west European countries like the UK and France.
Mr de Maiziere held up the example of the deadly attack on a Jewish museum in Brussels, in which four people were shot dead, as an example of the dangers militants returning from Syria posed.
A Frenchman suspected of the attack - Mehdi Nemmouche, 29 - is in custody in France. Prosecutors say the suspect, who spent more than a year in Syria and had links with radical Islamists, admitted the killings in a video.
"An abstract danger has become a concrete, deadly danger in Europe, Germany included," Germany's interior minister said.
Acts of violence by extreme left-wing groups rose by more than 26% to 1,110 last year, the report added.
Left-wing attacks on police rose by 34% and leftist groups' acts of violence against far-right groups rose by almost 40%.
"We cannot accept the increase in acts of violence," Mr de Maiziere said. "We will employ all means of the constitutional state against perpetrators of violence."