Turkey gives life sentences to surviving 1980 coup leaders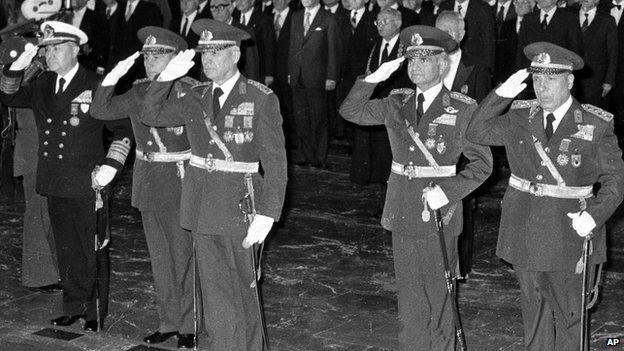 Turkey has given life sentences to the two surviving leaders of the 1980 coup, ex-army leader Gen Kenan Evren, 97, and Gen Tahsin Sahinkaya, 89.
The two officers, who did not appear in court due to ill health, are the first to be tried for a coup in Turkey.
Gen Evren, who was also president until 1989, never expressed regret for the coup that led to a wave of executions, torture and disappearances.
Some 600,000 people were detained and 50 executed by hanging in the coup.
Separately on Wednesday, Turkey's highest court paved the way for the potential retrial of 230 military officers convicted of attempting to topple Prime Minister Recep Tayyip Erdogan's government in the so-called 2003 "Sledgehammer" plot.
Gen Evren and Gen Sahinkaya were convicted of crimes against the state for setting the stage for army intervention and conducting the coup.
It is not yet clear if they will be made to serve the life sentences due to ill health.
Gen Evren's military takeover came to symbolise the military's long-standing dominance over Turkish politics.
But a constitutional clause granting the generals immunity from prosecution was overturned after a referendum in 2010, as part of Prime Minister Erdogan's attempts to rein in the power of the army.
Gen Evren justified the coup by saying it saved the country from descending into anarchy after deadly fighting between political extremists.
"Should we feed them in prison for years instead of hanging them?" he said in a speech in 1984, defending the decision to hang political activists.
They will immediately appeal against the verdict, their lawyer, Burak Baskale told the Associated Press news agency.
The 1980 military overthrow was the last and bloodiest of Turkey's coups. The others took place in 1960 and 1971, although the military also forced out a coalition government in 1997.