Poland leaked tapes: Raid on Wprost magazine criticised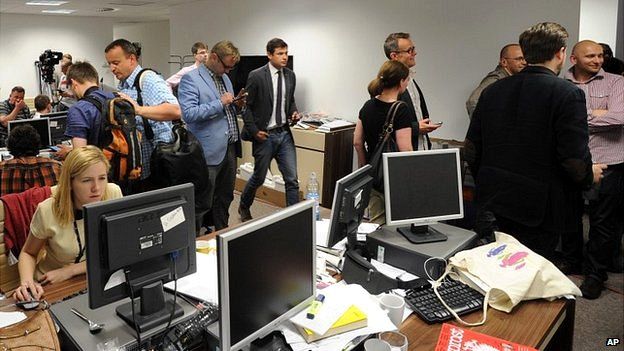 Poland's justice minister has said a controversial raid to find leaked tapes that embarrassed the government "should have never taken place".
Marek Biernacki said the raid on the offices of a news magazine had raised "legitimate concerns".
Wprost published an alleged private conversation in which Poland's top banker discusses the next election with a minister.
Under Polish law, the central bank must remain independent of politics.
Transcripts of the recordings, made at a restaurant in Warsaw popular with politicians, were published earlier this week.
In the recording, Interior Minister Bartlomiej Sienkiewicz is allegedly heard talking to Marek Belka, head of the National Bank of Poland.
Mr Belka is apparently heard calling for Finance Minister Jacek Rostowski to be removed in return for the bank's support in the event of an economic crisis.
Mr Rostowski was replaced four months later - but Prime Minister Donald Tusk denies this was as a result of the taped discussion.
Mr Tusk backed both men on Monday and said the leaked recordings were "an attempt at a coup d'etat, bringing down the Polish government by illegal means".
A prosecutor, accompanied by state security agents, raided the magazine's offices overnight on Wednesday and its editor said "physical force" had been used in an attempt to seize his laptop.
Justice Minister Marek Biernacki said the prosecutors' actions could be considered as "too far-reaching" and raise "legitimate concerns about breaching of journalistic confidentiality".
Michal Krolikowski, the Justice Ministry's undersecretary of state, added to the criticism, saying there had been "several legal deficiencies and some errors" in the operation.
The emergence of the tapes and the government's handling of the situation has put Mr Tusk under severe pressure.
On Thursday he said "the only solution" would be a snap election if "the crisis in confidence" continued.
Mr Tusk and his centre-right coalition won a second term in office at the October 2011 parliamentary election.