Albania hails police raid on cannabis-growing village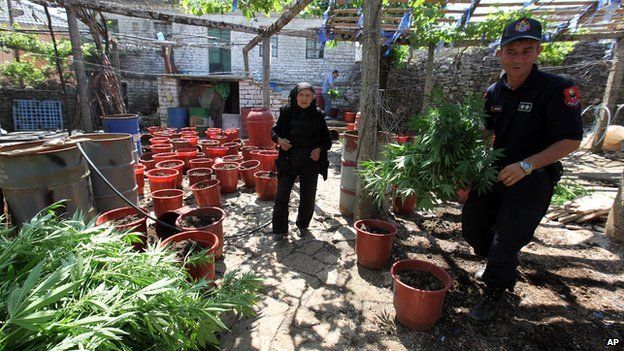 Albanian PM Edi Rama has praised a major anti-drug police operation in the southern village of Lazarat that netted more than 25 tonnes of marijuana.
Police say they have now brought the village under their control.
About 800 officers were engaged in the five-day operation, with many coming under fire from heavily-armed locals.
The small and prosperous village is believed to be Europe's biggest illegal producer of marijuana.
Lazarat, about 230km (140 miles) south of the capital Tirana, has been producing an estimated 900 tonnes of cannabis annually, worth 4.5bn euros ($6.1bn; £3.6bn) - equivalent to almost half of Albania's gross domestic product.
"State police destroyed the 20-year-old taboo of a crime zone that had declared itself a separate republic and turned it into a stamp of shame for Albania,'' Prime Minister Rama said on Friday.
The authorities said they had destroyed more than 25 tonnes of marijuana, more than 90,000 cannabis plants and four drug-processing laboratories during the operation in the village.
Police say at least six people were arrested, with dozens of automatic weapons and a large quantity of ammunition also seized.
Police said many of the gang leaders had escaped during the night, Reuters news agency reports.
Throughout the five days, police officers combed homes and gardens in a bid to rid the village of cannabis.
"The unbreakable, criminal Lazarat is no more," Sokol Bizhga, Albania's deputy police chief, told Reuters.
The operation comes as part of the new Socialist government's campaign to stamp out the marijuana economy in its bid to become part of the European Union.
Albania is Europe's leading cannabis producer despite efforts to clamp down by the authorities.