Spain moves to protect Juan Carlos from paternity suits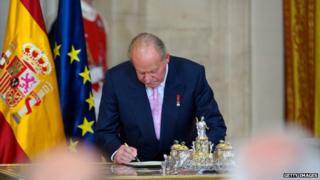 Spain's politicians have admitted they are rushing to pass new legislation to shield former King Juan Carlos from two paternity suits.
Juan Carlos, 76, lost his immunity from prosecution after handing power to his son, Felipe, following a 39-year reign.
A senior politician said amendments would be added to a package of judicial reforms so that only Spain's Supreme Court can hear cases against him.
Two separate paternity suits were filed against Juan Carlos in 2012.
Alberto Sola Jimenez from Spain's Catalonia region and Ingrid Jeanne Satiau, a Belgian national, both claim to be the former king's children.
His legal immunity meant that the suits were not processed at the time but the cases could now be brought again in ordinary courts.
A law passed in April gave immunity to royal consorts and heirs to the throne and the ruling Popular Party (PP) plans to amend this law to include the abdicated monarch and his wife Sofia.
Alfonso Alonso, spokesman for the PP, said the amendments would "settle a current and very important question... the judicial status of his majesty King Juan Carlos."
Once the amendments have been signed into law, the Supreme Court will be the only one to hear civil and criminal actions brought against Juan Carlos and his wife, Mr Alonso added.
The privilege is similar to that afforded to high-ranking civil servants, politicians and diplomats in Spain.
Correspondents say the amendments are likely to be approved within weeks by parliament, where the PP has a majority.
Juan Carlos announced that would step down on 2 June and his son was sworn in as King Felipe VI on Thursday.