Ukraine crisis: US steps up sanctions on separatists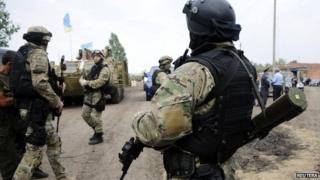 The US has imposed sanctions against separatists in eastern Ukraine, as the crisis there shows no sign of easing.
The sanctions include asset freezes against seven pro-Russian leaders.
Western leaders have threatened additional sanctions against Russia, who they accuse of stoking tension in Ukraine. Moscow denies the claim.
Both the separatists and Russia have dismissed a unilateral ceasefire called by Ukrainian leader Petro Poroshenko, the first step of his peace plan.
Overnight, the rebels carried out several attacks on Ukrainian troops, injuring a number of them, reports in Ukrainian media suggest.
In a separate development, President Vladimir Putin ordered forces in Russia's central military district to be put on full combat alert for a week.
The drill does not affect troops near the border with Ukraine. Mr Putin has ordered several such alerts to test combat readiness in recent months.
'Scalpel sanctions'
The US and European Union (EU) leaders have previously imposed sanctions after Russia annexed the Ukrainian region of Crimea in March.
On Friday, the US Treasury Department said it had blacklisted seven rebel leaders, including self-proclaimed mayors, governors and commanders in chief of cities under siege by Ukrainian forces.
Their assets in the US will be frozen and US firms will be banned from dealing with them.
US officials also said "scalpel" sanctions against Russia's defence, finance and high-tech industries were being considered.
US President Barack Obama had spoken separately to French President Francois Hollande and German Chancellor Angela Merkel, a White House statement said.
The leaders had agreed the US and EU would "co-ordinate additional steps to impose costs on Russia" if Moscow did not try to "de-escalate the situation in eastern Ukraine", the statement added.
The US says Russia is providing the separatists with military equipment, including tanks, and is building up troops on its border with Ukraine.
Moscow has denied sending tanks or backing pro-Russian militants.
Truce
On Friday, Mr Poroshenko declared a week-long ceasefire to give rebels time to disarm. It became effective from 22:00 local time (19:00 GMT).
The president also unveiled proposals for the peace plan involving decentralising power, holding early elections, and creating a 10km (six-mile) buffer zone on the Ukrainian-Russian border.
However, correspondents say pro-Russian insurgents show no sign of laying down their arms.
A senior rebel commander told Ukrainian news agencies the insurgents would not disarm until government troops had left the east.
The Kremlin dismissed the truce, saying it was "not an invitation to peace and negotiations but an ultimatum".
Tensions in Ukraine rose after former President Viktor Yanukovych refused to sign a trade agreement with the EU in November 2013.
The move sparked huge protests that led to Mr Yanukovych being ousted in February.
Russia reacted by annexing the Ukrainian region of Crimea, and separatists have occupied parts of eastern Ukraine.