Sarajevo cycle grand prix in WW1 commemoration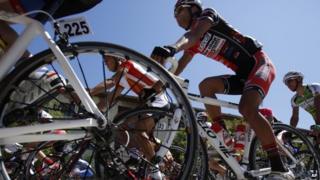 Thousand of cyclists including elite competitors have taken part in a race in the Bosnian capital Sarajevo.
It is the first in a series of events in Bosnia to mark the assassination there 100 years ago of Archduke Franz Ferdinand, which sparked World War One.
The race, sponsored by the organisers of the Tour de France, was a ceremonial opening leg for the Sarajevo Grand Prix 2014.
Some 140 professionals are competing in the full Grand Prix race.
The route - some 140km (87m) long - crosses former frontlines of Bosnia-Hercegovina's 1992-95 war.
It also ascends the 1,510m (4,954ft) Mt Igman, which lies south-west of Sarajevo and was a battleground during the war.
'Peace and unity'
Tour de France director Christian Prudhomme told Reuters news agency that Sunday's race "is an event which gathers and unites the people, and the message we are sending from here is the message of peace and unity".
The race is the only event marking the start of WW1 to be jointly organised by Bosnia's two ethnic-based regions, Reuters says.
The official anniversary of the shooting of Franz Ferdinand, heir to the Austro-Hungarian throne, falls next Saturday, 28 June.