Spain judge to rule on royal 'fraud' case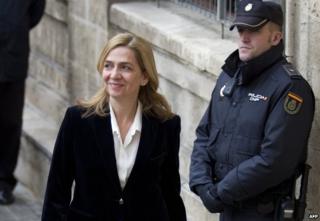 A sister of Spain's new King Felipe VI will find out this week if she is to face charges in a money laundering and fraud case, reports say.
Princess Cristina, 49, was questioned in court in February over the corruption scandal surrounding her husband's business dealings.
She and her husband Inaki Urdangarin both deny any wrongdoing.
The judge has been investigating claims that he and a former business partner embezzled millions in public funds.
Mr Urdangarin, Duke of Palma, and Diego Torres were alleged to have received 5.6m euros (£4.6m; $7.5m) by overcharging two regional governments for organising sporting events as part of a not-for-profit organisation called Noos.
The princess was named in January as an official suspect in the case which has been widely seen as damaging to the royal family.
She was not present for Felipe VI's proclamation as king last week.
According to unconfirmed Spanish media reports, she is to be charged with both money laundering and fiscal fraud. The two charges can attract jail terms of six years and five years respectively.
Infanta Cristina's appearance in court in Mallorca in February was already unprecedented for the Spanish royal family. She has no immunity from prosecution despite being one of the king's two sisters.
The Spanish government is currently pushing through legislation to give Juan Carlos, who abdicated in favour of Felipe last week, immunity from prosecution.
The former king, 76, lost his immunity on abdication and the ruling Popular Party is trying to shield him from two paternity suits filed against him in 2012. The new law would mean Juan Carlos is answerable only to the Supreme Court.
Alberto Sola Jimenez from Spain's Catalonia region and Ingrid Jeanne Satiau, a Belgian national, both claim to be the former king's children.
King Felipe is due to make his first domestic visit later this week to Girona, a Catalan city north of Barcelona. The trip is seen as highly sensitive because of a planned 9 November vote in Catalonia on independence from Spain.
Spain's Prime Minister Mariano Rajoy has vowed to block the referendum.
During his inauguration speech, Felipe spoke of his "faith in the unity of Spain" but Catalonia's nationalist regional leader Artur Mas, along with Basque country President Inigo Urkullu, did not applaud him.