German fighter and Learjet collide - one confirmed dead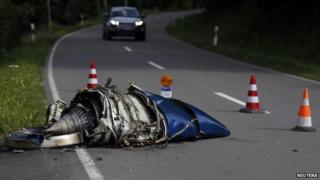 A military-chartered Learjet plane has crashed in western Germany after a mid-air collision with a German air force Eurofighter jet.
The Learjet came down in woodland near the town of Olsberg, killing one person and leaving another feared dead.
The Eurofighter returned safely to its base near Cologne. The incident happened during an exercise with another Eurofighter, German media say.
Die Welt news website said the Learjet was also taking part in the exercise.
Firefighters have found wreckage of the Learjet, with the remains of one person nearby.
Witnesses quoted by the German broadcaster WDR say parts of the Learjet came down just 80m (264ft) from a block of flats.
Olsberg lies in the Ruhr Valley, in North-Rhine Westphalia state.
The Eurofighter involved in the collision was badly damaged but landed safely.
The Bild daily quoted Air Force Col Andreas Hoppe as saying the pilots had performed a remarkable feat in bringing the plane back.