Ryanair: Five hurt on flight during 'severe turbulence'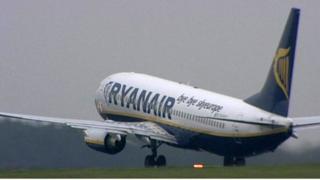 Five people have been injured as a result of severe turbulence on board a flight from the Republic of Ireland to northern Spain.
Two passengers and three cabin crew members "sustained minor cuts and bruising" during the flight from Dublin to Reus on Monday, Ryanair confirmed.
A spokeswoman said the aircraft "experienced some severe turbulence on approach to Reus Airport".
The injured were treated by ambulance staff when the plane landed.
The Irish news and current affairs website, the Journal.ie, carried an eyewitness account of "panic" on board the aircraft.
"We were absolutely terrified as the plane pitched aggressively roughly over a 60 degree angle throwing debris all over the plane," one passenger told the website.
In a statement, the airline said: "The captain called ahead to request the Reus ambulance service to meet the aircraft and provide medical assistance to these crew and customers."