Brian Crowley: Fianna Fáil cuts ties with sole MEP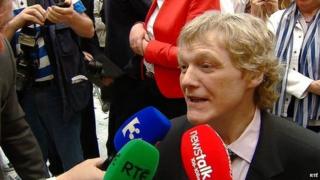 The Republic of Ireland's main opposition party has cut ties with its only MEP after he joined a conservative group in the European Parliament.
Brian Crowley has represented Ireland's Fianna Fáil party for 21 years.
On Monday, he joined the ECR (European Conservatives and Reformists) Group, which is set to be the third-largest group in the European Parliament.
Fianna Fáil said he had "removed himself" from their parliamentary party as a result of the defection.
In a statement on Tuesday, a spokesman said: "At today's meeting of the Fianna Fáil Parliamentary Party, it was agreed that the ideas and principles of the ECR group and its component parties are totally incompatible with the core principles of Fianna Fáil, the republican party.
"We do not believe it is in the interest of the Fianna Fáil party and its members to have any association with the ECR in the European Parliament."
Mr Crowley, who was paralysed from the waist down as a teenager when he fell from a building, is now the Republic of Ireland's longest serving MEP.
'Stronger say'
He is also a former member of Seanad Éireann (Irish senate) and served on the Council of State during the tenure of former Irish president, Mary McAleese.
He said he had taken the decision to align himself with the new European group in order to "provide a better service" for his constituents.
"The ECR Group is a non-federalist, pro-EU group who believes in giving a much stronger say to national governments rather than to EU institutions," Mr Crowley added.
"I also made this move to protect some jobs of Irish staff in Brussels, and not for any personal gain for myself, except my new group will allow me work more effectively for my constituents."