Russian and Ukrainian media consider Putin step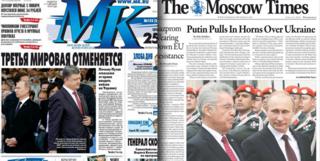 Newspapers in Russia and Ukraine consider whether President Vladimir Putin's call to the Russian parliament to revoke an earlier ruling authorising military intervention in Ukraine has any real significance.
Most Russian commentators feel that the main purpose of the move is to signal to the West a willingness to negotiate, though others consider its meaning to be more symbolic than real.
The Ukrainian press sees it mainly as sending a message to pro-Russian militants in Ukraine that they should be prepared to negotiate with the government in Kiev, and as a way of deflecting a possible third round of Western sanctions against Russia.
Clear signal?
According to the commentator Mikhail Rostovskiy, writing in the popular Russian daily Moskovskiy Komsomolets, "from the point of view of politics and political psychology, Putin's decision is hugely important".
He says that the original authorisation for military intervention was sought in order to allow Mr Putin to send Russian troops to annex Crimea, but that the Russian president has no desire to intervene militarily in Donetsk and Luhansk, and is signalling to pro-Russian leaders there that they should be ready to resolve their differences with the Ukrainian government through negotiations.
"The honest recognition of the geopolitical realities... is not a sign of weakness. It is a sign of common sense and the instinct for self-preservation. The Senate's authorization to use troops in Ukraine exhausted its real use after Crimea became part of Russia," Rostovskiy writes.
"The Kremlin has shown to the West its peacefulness and preparedness to negotiate. A clear signal has been sent to the leaders of Donetsk and Luhansk rebels: we love and support you, but there will be no 'Crimea scenario'," he adds.
The business daily Vedomosti is less sure of the significance of Mr Putin's move.
"The resolution was in fact a declaration of war... The war mandate had a great symbolic meaning, it defined Russia's position in the conflict," a signed editorial by Andrey Sinitsyn and Nikolay Epple says. "The key question today is whether the revocation of the permission is equally powerful?"
The writers tend to the view that on balance, revoking the original authorisation is a significant step: "This whole chain of events makes one suppose that the formal repeal of the permission for war is part of a big deal, however interim it may be."
However, Andrey Kolesnikov, a commentator for the business daily Kommersant, thinks that the signals being sent out by the Kremlin are confusing.
"Vladimir Putin's request looks pretty bizarre. It appears that the Russian president does not want to use military force in Ukraine, but he does not trust himself and is, in fact, asking for his hands to be tied or else, God forbid, he could hit the big red button," Kolesnikov writes.
Message to militants
In Ukraine, several papers see the move as being aimed mainly at the pro-Russian militants in Donetsk and Luhansk.
The popular tabloid Segodnya describes it as "a signal to the separatists to meet Kiev halfway".
Commentator Vadym Karasyov, writing in Komsomolskaya Pravda v Ukraine, says: "Putin's decision shows that he expects a peaceful settlement of the situation in Donbass. Also, it may be viewed as a signal to the self-proclaimed Donetsk and Luhansk republics to meet the [Ukrainian] authorities halfway, transform themselves into a political organisation and back the idea of truce and ceasefire."
Several commentators see Mr Putin's move as being made in response to the threat of further sanctions.
"Putin is currently making concessions because he is afraid of a third round of sanctions. We understand that fateful decisions will be taken not in Donetsk, but in the triangle Ukraine-West-Russia," writes Oleksiy Haran in Segodnya.
And Vitaliy Portnikov, writing on the grani.ru website, is even more sceptical: "The decision to waive the right to deploy troops to Ukraine is Putin's devil's plan… Now he will gain the character of a peacekeeper, prevent the third package of sanctions and will continue to send saboteurs to Ukraine."
BBC Monitoring reports and analyses news from TV, radio, web and print media around the world. For more reports from BBC Monitoring, click here. You can follow BBC Monitoring on Twitter and Facebook.