French doctor acquitted of 'mercy killing' charges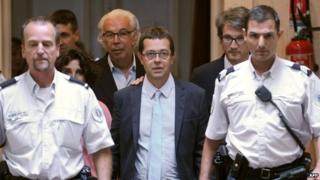 A French doctor has been acquitted of poisoning charges after giving lethal injections to help seven of his terminally ill patients die.
Lawyers for doctor Nicolas Bonnemaison hailed the decision, describing it as a "monumental verdict".
Several relatives of the victims testified on the doctor's behalf.
Earlier, the European Court of Human Rights overruled France's highest court and said that a man in a six-year coma must keep receiving medical treatment.
It suspended the Council of State's earlier ruling in favour of ending life support for Vincent Lambert, 39, in a landmark decision that divided his family.
The case is seen as unprecedented in France, where euthanasia is illegal though doctors can withdraw care.
'Vulnerable people'
In Mr Bonnemaison's case, he was accused of "poisoning particularly vulnerable people" - five women and two men - who died between March 2010 and July 2011 after being admitted to a hospital in the south-western city of Bayonne.
The courtroom erupted in applause when the judge read out the verdict on Wednesday, Reuters reports.
Mr Bonnemaison, who has already been struck off the medical register, would have faced life imprisonment if found guilty.
"There's no hero or martyr here," his lawyer, Benoit Ducos-Ader, said after leaving the court house in Pau, south-western France.
"This will force politicians to move a bit faster," he added, in reference to the growing debate in France on legalising euthanasia.
---
When a patient dies because medical professionals either do not do something necessary to keep the patient alive, or stop doing something that keeps patient alive. Examples are
switching off life-support machines
disconnecting a feeding tube
not carrying out a life-extending operation
not giving life-extending drugs
---
Doctors in France are entitled to withdraw care from a patient under a 2005 law that says life should not be prolonged "artificially" through "unnecessary or disproportionate treatment".
President Francois Hollande aims to change the law next year to allow "medical assistance to end one's life in dignity".
Mr Bonnemaison's acquittal came hours after the European court blocked a French court ruling in favour of ending life support for Mr Lambert, who was left a tetraplegic after a motorcycle accident.
The case was brought by his parents and some siblings, who challenged the decision to end his life after doctors in the hospital in Reims, north-east France, decided that feeding and hydration through tubes should stop.
The doctors were also supported by Mr Lambert's wife and some of his brothers and sisters.
Mr Lambert will be kept alive while the European court - which has the power to implement urgent, temporary measures "where there is an imminent risk of irreparable harm" - considers a full review of the case.
Separately on Wednesday, campaigners lost their appeal in the UK's highest court, the Supreme Court, over the right to die concerning two severely disabled men.
The cases involve the family of the late Tony Nicklinson, from Wiltshire, who had locked-in syndrome, and Paul Lamb, of Leeds, who was paralysed in a road crash.
However, five of the judges concluded that the court had the power to declare that the current law breaches the right to a private family life, a move euthanasia campaigners said was a positive development.