Romania: Basescu's brother's arrest prompts resign call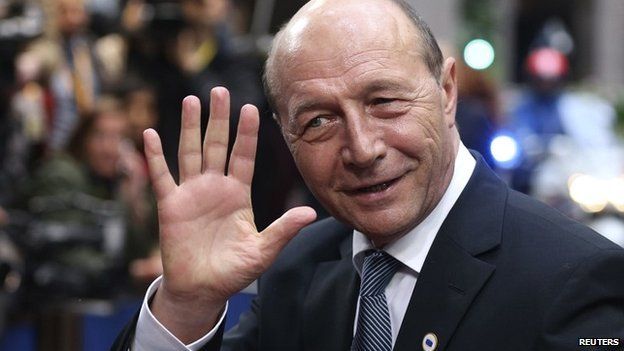 Romania's parliament has urged President Traian Basescu to resign over his brother's alleged links to the boss of a criminal gang.
Mircea Basescu was arrested last week and accused of taking a bribe from a man convicted of attempted murder.
A statement adopted by MPs called on the president to step down, saying the scandal had "gravely and irremediably harmed the prestige" of his office.
He says he will not resign and denies knowing about his brother's dealings.
Mircea Basescu was charged with taking the 250,000 euros (£200,000) bribe from the family of well-known crime boss Sandu Anghel in return for trying to get his sentence reduced.
President Basescu apologised to Romanians for his brother's alleged wrongdoing and insisted knew nothing about the alleged payment.
Parliament's move comes four months before presidential elections and correspondents say it highlights a growing split between the ruling coalition and the president.
The leftist Prime Minister Victor Ponta has previously called on President Basescu to resign and analysts expect Mr Ponta to replace him as president after elections in November.
Mr Basescu cannot run again as he has served two consecutive terms since 2005.
He won his first term as president on an anti-corruption ticket and has been a strong supporter of an independent judiciary.
Romania is the third worst country for political corruption in the European Union behind Greece and Bulgaria, according to anti-corruption group Transparency International.