Putin's complicated game in Ukraine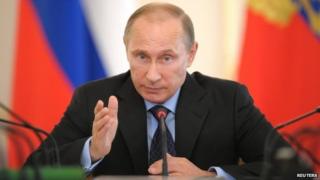 What is President Putin up to?
Roll back to late March: President Putin had annexed Crimea while denying Russian troops were involved.
He had put tens of thousands of Russian troops on high alert near Ukraine's border. He was insisting Viktor Yanukovych was still the rightful Ukrainian president even though he had absconded.
He was castigating the new Kiev government as illegitimate and neo-fascist, and rejecting Kiev's plan for early elections.
And he was warning that if Russian speakers in what he claimed were historically Russian lands in Ukraine were threatened, he might use the authority granted him by the Russian parliament to send his troops in.
His position was one of apparent strength and he was milking the opportunity to demonstrate Russia's clout.
Three months on the picture looks rather different. President Putin's position has shifted - so where does he stand now?
About turn
He has contradicted himself by admitting that Russian troops were in fact involved in taking over Crimea and even honoured some of them with medals, although he continues to deny Russian military involvement in eastern Ukraine.
He has stopped calling the Kiev government illegal, recognised Ukraine's new President, Petro Poroshenko, and engaged with him on peace negotiations.
And despite their repeated calls for help, he has not acted on his chilling threat to order a full-blown invasion of eastern Ukraine to aid pro-Moscow rebels. He has not even backed their secessionist moves - either their May referendums, or their proclamations of self styled republics since.
Instead, Russian troops near Ukraine's border have been ordered back to barracks (though the Americans say some build up may still be going on).
He has even unexpectedly asked the Russian parliament to rescind his authority to invade Ukraine if necessary.
It looks as though, having secured Crimea, President Putin has calculated he has gone as far as he can without bearing too much cost, and the time has come to offer gestures of conciliation, to wind the crisis down.
So is that indeed what is happening? Or is Mr Putin playing a more complicated game?
Lessons learned
Well, he has some good reasons to back off. His retaking of Crimea was popular in Russia in part because it looked so painless: a simple bloodless transfer of power.
But eastern Ukraine is different. It is a bloody, murky conflict with mounting numbers of casualties and refugees. This is a war most Russians do not want to see and which they certainly do not want their sons involved in.
Mr Putin needs to cast himself as a peace envoy, not threaten invasion any more.
To add to that, the Ukraine government's response has probably been tougher than Mr Putin expected. Having learnt a bitter lesson from Crimea that trying to avoid conflict can lead to territory being seized, President Poroshenko has ordered the army in, to push back at the rebels and negotiate a settlement from a position of relative strength.
And the West too has been more robust and less forgiving than perhaps Mr Putin expected, given what happened in 2008.
Then, Russia's short war with Georgia ended after some EU leaders hurriedly brokered a peace deal which left two chunks - South Ossetia and Abkhazia - nominally independent but actually under Moscow's thumb.
Mr Putin probably thought that once again EU leaders would weigh their economic interests and conclude that a damaging row with Russia was something they could not afford.
In fact, the experience of Georgia has had the opposite effect. It has made the annexation of Crimea look part of a pattern.
It has made some EU countries fear that Mr Putin plans might extend to seizing further territory. And this time they worry that the conflict is not far away in the Caucasus, but right on Europe's - and Nato's - doorstep. Hence the co-ordinated push on sanctions, currently still minimal, but which could become tougher in time.
And it seems that Western governments are no longer inclined to take Mr Putin at face value. Having concealed the use of Russian troops in Crimea, when he protests now that none of his troops are involved in Eastern Ukraine, he sounds disingenuous.
He is instead suspected of conducting another "maskirovka" - destabilizing part of Ukraine by stealth, through irregulars and volunteers who are nonetheless with their heavy weapons allowed free access across the Russian border, at the same time as he loudly appeals to Kiev to halt its advance.
Dodging both ways
So what happens now?
It may well depend on Mr Putin's calculation about how far Russia and Russians are prepared to stomach further sanctions - and that is more complicated than it seems.
There appear to be two opposing schools of thought on this in Moscow.
On the one hand there are nationalists and conservatives - including many involved in defence and security - who see the West as hostile and unfriendly and welcome sanctions as a means to decouple from it.
On the other hand there are pro-Western liberals and reformers who believe a long term rift with the West would be disastrous for Russia's economy.
Which side is Mr Putin on? I suspect his nationalist heart is with the anti-Westerners, but his pragmatic head may be with the economic reformers. And perhaps he will use that dichotomy to his advantage.
Years ago, in an interview with the BBC, his former judo instructor noted that one of Mr Putin's particular skills in judo was his ability to dodge first to the right and then to the left, to keep his opponent guessing.
Possibly this is an apt metaphor for his style as a political tactician.
Maybe his strategy is to seek to ensure that all former Soviet republics are in the hands of rulers who feel beholden to Moscow and can be relied upon not act against its interests. This certainly looks like his overriding security vision.
But if that is not possible, then in the meantime, his tactic may be to keep these countries weak. How?
Well, in Ukraine's case by on the one hand offering just enough apparent concessions to deter the West from imposing sanctions which would really start to bite, affect Russian living standards, and therefore his own popularity and chances of re-election in 2018.
But on the other hand, he may keep meddling in eastern Ukraine and anywhere else where he will not meet too much resistance, to reinforce his message - that Russia is a country and that he is a leader who is not to be trifled with and expects his viewpoint to be taken into account.