Brussels Jewish Museum murders: Nemmouche to be extradited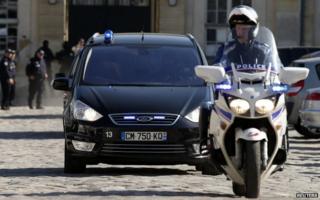 A French court has ordered the extradition to Belgium of Brussels Jewish Museum murder suspect Mehdi Nemmouche.
Four people were fatally shot in last month's attack, in broad daylight in the heart of the Belgian capital.
Mehdi Nemmouche, 29, had spent a year fighting with Islamists in Syria.
His lawyer says he will appeal against extradition, arguing that the court in Versailles failed to guarantee that he would not be sent to "a third country".
The suspect is said to fear that once he is sent to Belgium, he will be extradited to Israel.
Two of the victims of the 24 May attack were Israeli tourists. A French female volunteer at the museum and a Belgian employee were also killed.
Mehdi Nemmouche is of Franco-Algerian origin and from Roubaix near the border with Belgium. He was arrested in Marseille, in a routine customs check as he arrived on a coach from Amsterdam a few days after the shootings.
Police said he was carrying a Kalashnikov rifle and a handgun matching those used in the attack. Prosecutors said that after spending a year in Syria he had returned to Europe, flying to Germany in March.
Belgium sought his extradition under a European arrest warrant, which fast-tracks the legal process.
"My client will certainly appeal to the Court of Cassation (France's top criminal court) because he is not satisfied with this decision," his lawyer Apolin Pepiezep told French TV.
France, like several other European countries, is under pressure to tackle the radicalisation of young Muslim men influenced by the conflict in Syria
The UK believes 500 British Muslims have travelled to Syria to fight
Young German men are thought to have gone to Iraq to join jihadist group Isis (Islamic State in Iraq and the Levant)
Eight people were arrested in Spain this month on suspicion of recruiting on behalf of Isis.
In March 2013, a young French Islamist, Mohamed Merah, murdered three paratroopers as well as three Jewish children and a teacher at a Jewish school in Toulouse.
Although Mehdi Nemmouche's return to Europe was reported to France by the German authorities, little attempt was apparently made to keep track of him.