Guide to the EU deals with Georgia, Moldova and Ukraine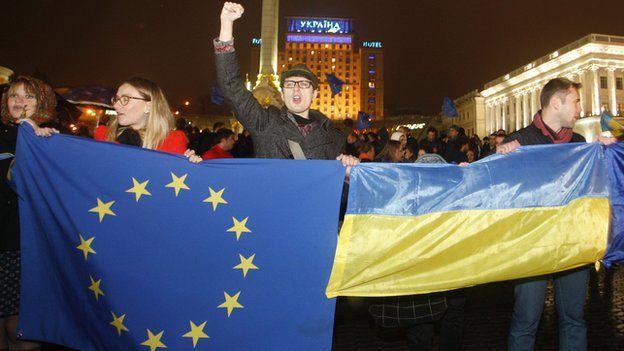 The European Union has signed far-reaching trade partnership deals with three former Soviet republics - Ukraine, Georgia and Moldova.
The official title of each one is "Association Agreement and Deep and Comprehensive Free Trade Area". They commit the countries to EU standards, including new customs regulations, quality controls and free market competition.
Economically these eastern neighbours of the EU have lagged behind other former communist bloc countries which joined the EU in the past decade. So economic integration is a big step towards possible EU membership in future.
Russia is suspicious of these agreements - it is trying to draw ex-Soviet republics into its own customs union.
Then Ukrainian President Viktor Yanukovych bowed to Russian pressure last November, abruptly refusing to sign up to the EU deal - and that sparked the current Ukrainian crisis.
But in March the EU and Ukraine signed the political part of the association agreement. It commits Ukraine to close co-operation with the EU in the areas of human rights, security and arms control.
Ukraine's full association agreement, including the many free-trade provisions, ranks as the most important for the EU. It is a highly political act, as Russia is angry at what it perceives as Western encroachment in its traditional sphere of influence.
For centuries Ukraine was ruled by Russia and economically integrated with it. The armed pro-Russian separatists in eastern Ukraine reject the EU agreement, seeing it as a threat to their interests.
Russia has put economic pressure on Ukraine, cutting gas deliveries and boycotting various goods, including Ukrainian dairy and chocolate exports. Russia says the EU must include it in talks on Ukraine's future economic relations. Russian officials say the deal could mean unfair competition, with cheap EU goods entering the Russian market via Ukraine.
About a third of Ukraine's foreign trade is with the EU - roughly the same proportion as its trade with Russia.
In 2013 EU exports to Ukraine totalled 23.9bn euros (£19bn; $33bn) - mostly heavy industrial equipment, chemicals and manufactured goods.
Ukraine's exports to the EU totalled 13.8bn euros - mostly iron and steel, minerals and food.
In terms of area, population and economic output, Ukraine dwarfs Georgia and Moldova.
The pro-Western government in Tbilisi sees its association agreement with the EU as a way to stimulate the country's struggling economy. Nearly a third of Georgia's total trade is with the EU.
Georgia is strategically important for the EU because the bloc plans to increase its energy imports from Georgia's Caucasus neighbour Azerbaijan and Central Asian republics further east. A key pipeline already crosses Georgia. EU leaders worry that Russia - a key energy exporter - may no longer be a reliable partner.
Georgia's relations with Russia remain tense, with Tbilisi aggrieved that Russia has de facto annexed two of its regions - South Ossetia and Abkhazia. Pro-Russian separatists rule both regions, backed by Russian troops who expelled the Georgian military in a war in August 2008.
In the past, Russia has boycotted Georgian wine and mineral water, citing health concerns, and after the war Moscow-Tbilisi flights were suspended for a long time.
In 2013 the EU exported goods to Georgia worth 2bn euros in total, mainly minerals, chemicals, machinery and transport equipment.
Georgia's exports to the EU totalled 700m euros in 2013, dominated by minerals. Food and metals exports were also significant.
Moldova is often called Europe's poorest country. Many Moldovans rely on remittances from relatives working in the EU.
Culturally and historically it is very close to Romania, but the association agreement with the EU may open up wider European markets for Moldova. More than half of Moldova's total trade is with the EU.
One of the brakes on Moldova's development is the unresolved Trans-Dniester conflict. Pro-Russian separatists have controlled Trans-Dniester - a long strip of land in eastern Moldova - since the early 1990s.
EU exports to Moldova in 2013 totalled 2.3bn euros, dominated by machinery, minerals and transport equipment.
Moldova's exports to the EU - mostly food, clothing and machinery - totalled 1bn euros.