Monaco heiress Helene Pastor murder: Polish ex-envoy probed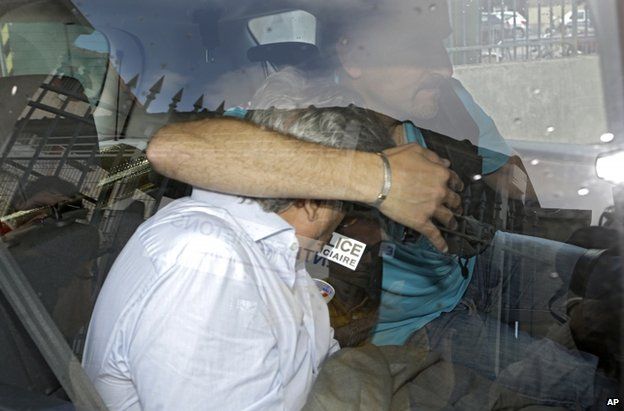 Poland's former honorary consul in Monaco is being formally investigated over the murder of his wealthy mother-in-law, French prosecutors say.
Wojciech Janowski, 64, had "recognised his involvement" in the killing of heiress Helene Pastor, Marseille prosecutor Brice Robin said earlier.
Ms Pastor, from one of Monaco's richest families, was shot along with her driver as she left hospital in Nice.
Mr Janowski's wife Sylvia was also detained but released without charge.
Seven other suspects from a total of 23 detained in the French cities of Nice, Marseille and Rennes were placed under investigation on Friday.
Among them was the Pastor family sports instructor, Pascal Dauriac.
Both Ms Pastor, 77, and her chauffeur Mohammed Darwich, 64, were mortally wounded when a man with a sawn-off shotgun ambushed their car on 6 May as it was leaving the hospital where she had been visiting her son.
The prosecution alleges that Mr Janowski paid hitmen to carry out the killing.
Mr Robin said Mr Janowski's motive was to "lay his hands on the inheritance" of his common-law wife.
Mr Janowski spent 250,000 euros ($340,000; £200,000) to contract the killing, the prosecutor said.
He announced earlier that Mr Janowski's bank account had seen suspicious financial flows which needed explanation.
Poland dismissed Mr Janowski, a Cambridge-educated businessman, from his post as honorary consul after his arrest because of the "loss of his good reputation and trustworthiness".
Two suspects in the shooting were identified after police studied DNA evidence and CCTV footage from the area on 6 May, prosecutors say.
The pair were described as aged 24 and 31, originally being from the Comoros islands, and having a string of criminal convictions.
Video from railway stations and elsewhere showed that the two men had taken a train from Marseille to Nice on the afternoon of the shooting, gone to a hotel, and then made their way to the scene of the shooting, prosecutors say.
French media had earlier reported they had spent 500 euros (£400; $680) on a taxi back to Marseille afterwards.
Sylvia, the dead woman's eldest daughter, was released on Wednesday night.
Reports say she and Janowski have been together for 28 years and have a teenage daughter.
Ms Pastor's father, Gildo, became one of Monaco's wealthiest men when Prince Rainier gave him permission in 1966 to build high-rise buildings along the seafront, AFP news agency reports.
Ms Pastor's income was derived from owning several prestige properties and she rarely left her luxury home in Monaco. Prince Albert II attended her funeral.