More than 50,000 displaced by turmoil in Ukraine - UN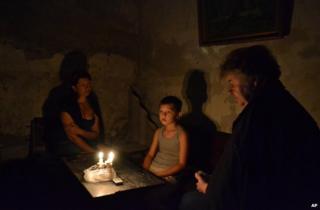 The number of people displaced internally by the turmoil in Ukraine has reached 54,400 with 16,400 fleeing fighting last week alone, the UN says.
A further 110,000 people left Ukraine for Russia this year, most of them from eastern regions, though only 9,500 sought official refugee status there.
A truce declared by Ukraine a week ago is due to expire shortly in the east.
Deadly fighting has continued during the ceasefire between pro-Russian separatist rebels and troops.
Hundreds of civilians and combatants have been killed since mid-April.
The separatist leadership in Donetsk has said that around 800 of its fighters and around 250 civilians have been killed in that region and the neighbouring region of Luhansk, in what is believed to be the first overall death toll given by the rebels.
---
At the scene: Steve Rosenberg, BBC News, Moscow
At one crossing point I visited on the Russian-Ukrainian border, Russia's emergency situations ministry had set up tents for people fleeing the violence.
Some of the people I spoke to said they planned to travel on to other parts of Russia to stay with relatives. Others were in need of temporary accommodation in hotels, hostels and summer camps. Most were hoping to return home when it became safe to do so.
People were deeply shocked that eastern Ukraine had been transformed, in such a short space of time, from a peaceful region into a battleground. Kiev accuses Russia of doing that, through its backing for the pro-Russia armed separatists. Many of the civilians I spoke to were critical of the Ukrainian security forces for shelling towns and villages. That does not mean they support the idea of Donetsk and Luhansk regions breaking away from Ukraine.
---
Last week, the UN estimated that at least 356 people, including 257 civilians, had been killed in eastern Ukraine since 7 May.
'Sharp rise'
The UN figures cover people displaced both as a result of Russia's relatively bloodless annexation of Crimea in March and the fighting in eastern Ukraine.
Speaking in Geneva, UN refugee agency spokeswoman Melissa Fleming said: "We are seeing a sharp rise in [internal] displacement in Ukraine."
Apart from those Ukrainians who went to Russia, some 700 others went to Poland, Belarus, the Czech Republic and Romania, she said.
Russia has been accused of fanning the insurrection in the east by allowing pro-separatist fighters and military supplies to cross its borders into Donetsk and Luhansk - a charge it denies.
Russian President Vladimir Putin said a "real humanitarian catastrophe" was unfolding in eastern Ukraine.
He accused the new Ukrainian authorities of splitting the country with its decision to seek closer ties to the EU, signing a historic association agreement in Brussels on Friday.
Five dead
Some towns and villages in parts of Donetsk and Luhansk, Ukraine's industrial heartland, have come under heavy bombardment during the conflict as government forces seek to break the rebels' hold.
The rebel casualty figures were given at a news conference by Andrei Purgin, first deputy prime minister of the self-declared Donetsk People's Republic.
Five Ukrainian soldiers were killed in fighting on Thursday night in Donetsk region, the army confirmed. The rebels confirmed they had launched an attack near Kramatorsk airport.
It seems the two opposing sides believe the truce expires at difference times on Friday - the government, at 22:00 (19:00 GMT), and the rebels, at 10:00.