Vatican tribunal convicts former envoy of sex abuse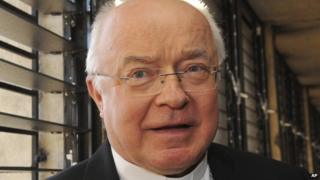 A tribunal in the Vatican has convicted the former papal envoy to the Dominican Republic of sex abuse and stripped him of the priesthood.
Jozef Wesolowski, who is originally from Poland, was recalled by the Church last year amid claims that he had abused boys in Santo Domingo.
Wesolowski is the highest-ranking Vatican official to have been investigated for sex abuse.
Pope Francis has urged the Church to root out and punish abuse by priests.
Wesolowski had served as envoy to the Dominican Republic for five years. He was ordained as a priest and bishop by his compatriot, Pope John Paul II.
He has two months to appeal against the sentence. As a citizen of the Vatican, he also faces criminal charges in the city state, which could lead to a prison sentence.
Authorities in the Dominican Republic have also opened an investigation into Wesolowski, but have not charged him.
Pope Francis last year strengthened the Vatican's laws against child abuse. He has pledged a crackdown on clerics and employees of the Church who exploit minors, comparing their actions to a "satanic mass".