Olive branches fail to disguise deep Juncker division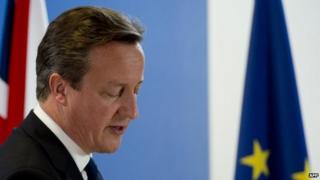 David Cameron tried to make a virtue out of his failure to block the nomination of Jean-Claude Juncker for European Commission president.
Even before Mr Cameron had made his impassioned pitch to Europe's leaders, his aides were portraying this as a battle in a much longer campaign for EU reform.
For a domestic audience he wanted to underline that, when it came to Europe, he was a leader who did not bend.
David Cameron insisted on a show of hands, that leaders take responsibility for their decision.
The prime minister told them they would regret their decision and that they were taking "an irreversible step, handing power to the European Parliament and away from the heads of government". It was a sad day, he said.
Bruising arguments
But Angela Merkel defended the candidate she had been so lukewarm about just a few weeks ago.
She described him as a man who understood Europe and could balance the wishes of both the national governments and the European Parliament.
Later the German chancellor appeared to reach out to Britain. She said that ever-closer union did not mean a one-speed Europe.
She specifically said that she shared some of Britain's concerns about what a modern Europe should look like.
That message - that Mr Juncker is open to reform - was also being pressed by senior German politicians. After bruising arguments they were signalling that the road to reform lay open.
None of these olive branches, however, could disguise the bitter divide over Mr Juncker.
David Cameron sees a career insider whose election undermines the power of national parliaments. The German chancellor sees a committed European.
Mr Cameron says he will work with Mr Juncker but suspicions will run deep.
Among the leaders there is anxiety that this defeat will hasten the exit of Britain from the EU. Even so, there was a hint of frustration from the French president when he said that Britain had to play by the same rules as others.
But it was noticeable that after David Cameron had spoken many leaders expressed some sympathy with his arguments, even though they would not back him.
In parts of Europe he is being mocked as a loser, an isolated leader who misjudged how power in Europe works. He had failed to build alliances.
Politically, at home, his opponents will shrug and say that if the prime minister could not get a reformer into Europe's top post then what hope does he have in renegotiating Britain's relationship with Brussels?
But at the end of the summit, the other leaders added a paragraph to the final communique stating that Britain's concerns about the future direction of Europe will need to be addressed.