Ukraine crisis: New clashes test ceasefire in east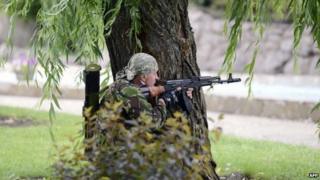 A ceasefire in eastern Ukraine is coming under increasing strain amid fresh clashes between government forces and pro-Russia separatists.
Ukrainian military sources said at least one soldier had been killed near the rebel stronghold of Sloviansk.
Several government-held sites came under fire overnight.
President Petro Poroshenko extended the week-long ceasefire on Friday for three days, hoping for progress on his 15-point peace plan.
Some rebel leaders said they would match the truce but others oppose it.
Ukrainian military spokesman Oleksiy Dmytrashkivskyy has confirmed one military fatality outside Sloviansk, although other media reports speak of three Ukrainian troops killed.
The Unian news agency quoted a Ukrainian National Security and Defence Council spokesman as saying the government reserved the right to cancel the truce if the breaches continued.
Mr Poroshenko's extension of the truce had come hours after he signed a landmark EU trade pact - the issue that has been the trigger of the recent crisis. He said it was a "historic" moment.
The refusal of Mr Poroshenko's predecessor, Viktor Yanukovych, to sign the EU deal - under pressure from Russia - led to protests in Kiev and his eventual overthrow this year.
Russia has since warned it could hit Ukraine with punishing trade restrictions.
Speaking on Saturday, Russian Foreign Minister Sergey Lavrov told Russian TV that it would be easier to solve the Ukrainian crisis if the United States were not involved.
"Our American colleagues... prefer to push the Ukrainian leadership along a confrontational path," he said.
'Path of peace'
There were other reports of fighting in the town of Kramatorsk and at a Ukrainian forces base near Kryva Luka, although no casualties were reported.
A separatist commander in Kramatorsk denied breaching the ceasefire, telling Russia's Rossiya 24 his forces were only defending the town.
The defence ministry has reported several attacks in the Donetsk and Luhansk regions, and said the Ukrainian army had regained control of a checkpoint outside Sloviansk.
One of the leaders of the self-declared "Donetsk People's Republic" in the east, Aleksander Boroday, said the new truce would be observed until 30 June.
However, two other senior rebels in the Donetsk region, Pavlo Gubarev and Igor Girkin, were quoted by local media as saying they rejected the truce.
It is scheduled to continue until 22:00 local time (19:00 GMT) on Monday.
A statement on the Ukrainian presidential website pointed to a policy statement on Ukraine, issued by the European Council on Friday which set out key steps it expected to happen by Monday.
They include the return of three key checkpoints to Ukrainian forces and the "launch of substantial negotiations on the implementation of President Poroshenko's peace plan".
Russian President Vladimir Putin has insisted on a long-term ceasefire to allow for negotiations between the Ukrainian government and separatists, urging Mr Poroshenko to embark on a "path of peace, dialogue and accord".
Mr Poroshenko set out a 15-point peace plan on 20 June. It involves decentralising power and holding early local and parliamentary elections.
It also proposes the creation of a 10km (six-mile) buffer zone on the Ukrainian-Russian border, and a safe corridor for pro-Russian separatists to leave the conflict areas.
German Chancellor Angela Merkel warned Russia the EU was prepared for "drastic measures" if there was no speedy progress on the plan.
More than 420 people have been killed in fighting between pro-Russia rebels and government forces in eastern Ukraine since mid-April, the UN estimates.
The separatists have declared independence, claiming that extremists have taken power in Kiev. Their move followed Russia's annexation of Ukraine's Crimea region.