Russian sailors get French warship training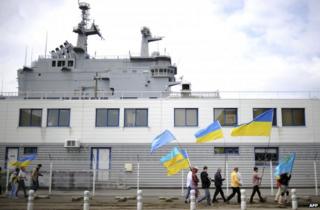 A group of 400 Russian sailors has arrived in France for training aboard one of two warships that France is selling to Russia despite US criticism.
The sailors will spend the summer in Saint-Nazaire learning to operate the Mistral-class amphibious assault ships.
President Francois Hollande insists the sanctions imposed on Russia following its annexation of Crimea from Ukraine do not cover military hardware.
He says that the $1.2bn (£700m) contract is also too costly to cancel.
President Obama said earlier this month that he was concerned about the sale.
He said that in light of the crisis in Ukraine it would have been "preferable to press the pause button" on the deal, even though it was important for French jobs.
The Russian sailors will spend four months in Saint-Nazaire training on the Vladivostok, which will be delivered in October.
The second ship, the Sevastopol - named after the Russian port in Crimea - will be delivered in 2015.
French media have described the Mistral-class vessels as the "pride of the navy" and Russia's navy chief has said they will significantly enhance its combat potential.
The warships are the second largest in the French navy, transporting up to 16 helicopters, four landing craft and some 700 troops.
The BBC's Christian Fraser in Paris says the deal sorely undermines France's position on the Ukraine crisis because it has been one of the countries pushing Germany to take a tougher line with Russia over the recent unrest in the east of the country.
President Hollande's government says the sanctions agreement does not cover military hardware and that the contract, signed by President Nicolas Sarkozy's government in 2011, should be honoured.
At the time, President Sarkozy said the deal - which has created about 1,000 jobs - was evidence that the Cold War was over.
France argues that other countries must share the sanctions burden and that Russia's energy and financial sectors should be targeted as well.
The deal has been strongly criticised by pro-Ukrainian bloggers, who have accused France of putting French jobs before Ukrainian lives.
Our correspondent says Russia's need for such warships has been evident since its invasion of Georgia in 2008, when it was slow to capture a key port in the breakaway Georgian region of Abkhazia.