Ukraine and Russia agree to work on truce extension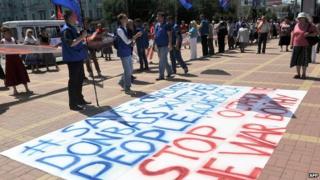 Ukraine and Russia have agreed to work together to establish a bilateral ceasefire in eastern Ukraine, the office of the French president says.
They are also working towards the establishment of effective border controls, it adds.
It follows talks between the leaders of Ukraine, Russia, Germany and France to resolve the conflict in east Ukraine.
A ceasefire between the Ukrainian authorities and pro-Russian separatists is due to end on Monday evening.
But the temporary truce, which was extended for three days on Friday, has had little effect on the ground, with both sides accusing the other of violating it.
Five Ukrainian soldiers have been killed in clashes in the east and a Russian state TV cameraman was also shot dead while he was reporting in the city of Donetsk.
Deadline approaches
On Monday, Russian President Vladimir Putin and his Ukrainian counterpart, Petro Poroshenko, agreed to work on "the adoption of an agreement on a bilateral ceasefire between Ukrainian authorities and separatists," the French presidency said in a statement.
"They have also agreed to work on the liberation of more hostages and prisoners and the organisation of "substantial tripartite negotiations," it added.
It came after a four-way teleconference between the two men, French President Francois Hollande and German Chancellor Angela Merkel.
Mr Putin had earlier stressed the importance of extending the ceasefire, and called for the Organisation for Security and Cooperation in Europe (OSCE) to play an "active role" in monitoring a truce.
However, the OSCE earlier said it was scaling back monitoring operations and freezing deployments to Ukraine's east.
President Poroshenko has come under pressure from protesters in the capital, Kiev, who want military operations against the rebels in the east to resume.
The ceasefire, which went into effect on 20 June, is due to expire at 22:00 (19:00 GMT) on Monday.
The Ukrainian and Russian foreign ministers are due to continue talks later on Monday, the French presidency said.
In other developments on Monday -
Russia demanded an objective investigation into the death of Russia Channel One TV cameraman Anatoly Klyan, who was killed by gunfire in the east
Ukraine's military says five of its soldiers were killed and 17 others wounded in clashes
Pro-Russian rebels reportedly seized an air defence unit in Donetsk and captured six soldiers, but this has not been independently verified
Clashes involving shell fire resumed in the rebel stronghold of Sloviansk
Russia is under pressure from the European Union to use its influence with separatists in the east to de-escalate the conflict, the EU warning of "drastic measures" if it fails to do so.
Ukraine's President Petro Poroshenko signed a landmark EU trade pact on Friday. The issue of whether Ukraine should lean more towards Russia or the EU was the trigger for the current crisis.
The refusal of Mr Poroshenko's predecessor, Viktor Yanukovych, to sign the EU deal last year - under pressure from Russia - led to protests in Kiev and his eventual overthrow.
Russia then annexed Ukraine's Crimea region, and separatists in the east declared independence from Ukraine.
More than 420 people have been killed in fighting between pro-Russia rebels and government forces in eastern Ukraine since mid-April, the UN estimates.