Hugh Schofield: Sarkozy detention raises 'plot' suspicions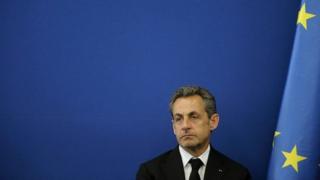 Supporters of Nicolas Sarkozy are extremely suspicious over the timing of his detention.
According to the latest political prognostications, the former president was planning to make his long-awaited comeback as early as August.
With the centre-right UMP party in tatters after (yet another) funding scandal that removed leader Jean-Francois Cope, the moment was ripe for the saviour to return.
A UMP congress is being prepared for November and it was becoming more and more evident that Mr Sarkozy was going to stand for party president.
For his supporters, no other UMP leader - not Francois Fillon nor Alain Juppe - would dare to run against him. The post was his for the taking.
And after that, according to the grand plan, Mr Sarkozy would relaunch the party in 2015 with a new name and a new set of policies, and be carried with its help back to the Elysee two years later.
But now has come this little legal difficulty.
Former presidents have been in trouble with the law before. Jacques Chirac even went on trial, and Mr Sarkozy himself was "mis en examen" - placed under formal investigation - in the so-called Bettencourt money scandal (the charges were later dropped).
Image of a felon
But there is a symbolism in what has happened this time.
Mr Sarkozy is in "garde a vue" - taken into custody in the same police procedure that common criminal suspects have to undergo.
Though his treatment will have been more delicate than for a drug-dealer - and he will of course be released when the time is up (with or without a charge) - it is still a deep humiliation.
And it will fix the image of Mr Sarkozy as felon very firmly in the public eye.
For that reason his supporters are sure the whole thing must be a set-up.
They say there is pathetically little in the file that the magistrates are trying to build against him.
How can Mr Sarkozy be accused of influence peddling, they ask, when the judge he was supposedly using at the High Court of Appeal had no role in the various investigations that were under way; and when that same judge never even got the cushy job in Monaco that was allegedly his bribe?
And how can there be justice when the magistrates only stumbled on the affair after tapping Mr Sarkozy's phones and listening into conversations with his lawyer?
Hotter heads believe it is all a plot co-ordinated from the Elysee, where President Hollande lives in dread of a return of his loathed former rival.
Calmer heads say talk of a conspiracy is too Machiavellian. Who needs a plot when there are plenty of people willing to do the deed?
Establishment enemies
While president, Mr Sarkozy came to be detested by many in the justice system. Rightly or wrongly, magistrates saw him as trampling on their cherished independence - and they vowed revenge.
The Socialists obviously despise him, caricaturing him as a money-obsessed lout. And even in his own UMP, there are many who have little liking for their former boss.
The fact is that over the years, Nicolas Sarkozy has alienated huge swathes of the French establishment.
Some see that as his strength. After all, what is so great about the French establishment?
But, as Christian Makarian, deputy editor of L'Express, put it to the BBC: "Nicolas Sarkozy has always wanted to go over the heads of the establishment - and appeal directly to the people.
"But the establishment still has power in France. And there is nothing more establishment than French judges."