Irish education minister: Ruairi Quinn resigns his post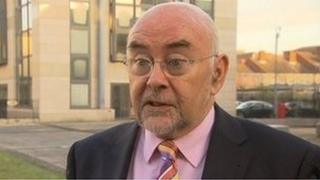 Ruairi Quinn, the Republic of Ireland's education minister, has announced he is to resign.
Mr Quinn made the announcement outside the Irish parliament in Dublin on Wednesday.
He said it was a considered decision and he wanted to make the task of the new Labour team easier.
The move comes after a series of meetings with Eamon Gilmore, Mr Quinn's Labour Party leader and deputy prime minister.
The Labour Party is a junior partner in the Irish coalition government.
Mr Quinn's resignation takes effect from Tuesday when a cabinet meeting is due to take place.
He said he would not be seeking re-election to parliament.
His announcement comes days ahead of a Labour Party meeting to choose a new leader after Eamon Gilmore's resignation.
Mr Gilmore announced his intention to resign following the Labour Party's disastrous showing in local and European Elections in May.