Heiress Helene Pastor's son retracts Monaco 'confession'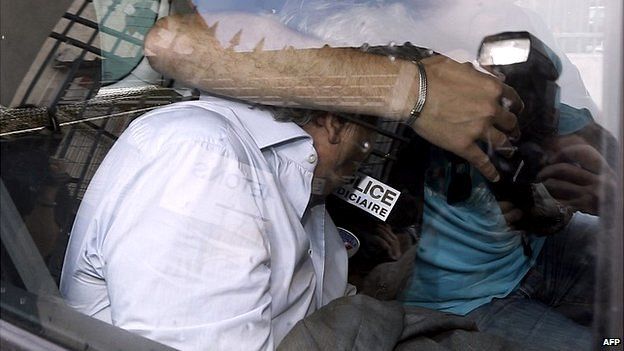 The son-in-law of a Monaco heiress has retracted his "confession" to ordering her murder, citing misunderstandings with police.
Prosecutors said last week that Wojciech Janowski had "recognised his involvement" in Helene Pastor's death.
But Mr Janowski, Poland's ex-honorary consul in Monaco, told a bail judge he denied having ordered the killing.
Ms Pastor, from one of Monaco's richest families, was shot along with her driver in Nice.
They were ambushed by a man with a sawn-off shotgun on 6 May as the 77-year-old was leaving hospital after visiting her son.
Her chauffeur Mohammed Darwich, 64, also died from injuries sustained in the attack.
Mr Janowski was arrested early last week along with his partner Sylvia, but she was released shortly afterwards.
The two have been in a relationship for 28 years and have a teenage daughter.
The prosecution alleges that Mr Janowski paid two hitmen 250,000 euros ($340,000; £200,000) to carry out the killing in order to "lay his hands on the inheritance" of his common-law wife.
The two men, a 31-year-old and a 24-year-old originally from the Comoros islands, were also apprehended last week and charged.
Mr Janowski's personal trainer was also charged with allegedly organising the murder and acting as a go-between with the men.
At a news conference last week, prosecutors told journalists that Mr Janowski had confessed his involvement after being detained.
But Mr Janowski's lawyer, Erick Campana, said he had withdrawn statements made while in custody because he "misunderstood the meanings of the terms used by police".
He added that police had been speaking in French and Mr Janowski "does not understand all the nuances of our language".
Mr Campana also said he would be demanding that an appeal court nullify his client's detention because he did not have access to a lawyer or interpreter during his 96 hours in custody.
Helene Pastor's father, Gildo, became one of Monaco's wealthiest men when Prince Rainier gave him permission in 1966 to build high-rise buildings along the seafront.
Ms Pastor's income was derived from owning several prestige properties and she rarely left her luxury home in Monaco. Prince Albert II attended her funeral.
A graduate of the University of Cambridge, Mr Janowski is the boss of a Monaco technology firm and an oil business, and is involved in numerous charities in the principality.
After he was charged, Poland said it was stripping him of his title of honorary consul "because of the loss of the irreproachable reputation that is essential for this role".
It noted that as an honorary official he did not enjoy diplomatic immunity from criminal prosecution.