Belgians unite in World Cup social media frenzy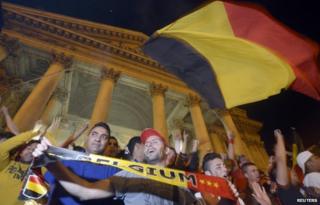 For Belgians, so often divided by language, the national football team is one of their main unifying forces.
Never more so than at the World Cup in Brazil, where the Red Devils face Argentina in Saturday's quarter-final. That's the Rode Duivels in the northern Flemish areas or the Diables Rouges in French-speaking Wallonia. Social media have also bridged the divide.
While political leaders tend to tweet in both Dutch and French, the French hashtag #tousensemble (all together/iedereen mee) has taken on a life of its own, becoming one of the major trends, along with #argbel and #belarg.
It is all a far cry from the divisive politics of a country where the separatist Flemish N-VA won the most recent elections. There are fears of another political stalemate only three years after Belgium set a record for going without a government for 18 months.
Although most of the players are bilingual, many choose to tweet in English, so as not to offend either community. And many of Belgium's stars play across the North Sea in England's Premier League.
Belgium have not reached a World Cup semi-final since 1986, when Argentina thwarted their ambitions with two Diego Maradona goals.
Now, an arguably weaker Argentina side stands in Belgium's way of reaching the final four. Lionel Messi is seen as the biggest obstacle they face.
Until their last-16 tie against the USA, Belgium's golden generation of stars had done little to set the World Cup alight.
In fact, it took them 120 minutes to get past the Americans, despite one of the strongest squads in the competition. A team featuring Eden Hazard, Dries Mertens, Kevin Mirallas, Thibaut Courtois and Marouane Fellaini eventually prevailed, with goals from Romelu Lukaku and Kevin de Bruyne.
Some nine million tweets were sent during the match, and for Prime Minister Elio Di Rupo, victory was sweet:
Excitement across the country is mounting as Saturday's 18:00 (16:00 GMT) kickoff approaches.
Giant screens have appeared in towns and cities to show the match
Rock band Triggerfinger want their time changed at Rock Werchter - one of Belgium's biggest music festivals - because they are due to play during the game and fear everybody will watch the giant screen instead
One of the major chains, Mediamarkt, is closing its doors 30 minutes early to help its staff see the game
Supermarket Delhaize is changing its work rotas in a gesture to workers
A priest is scrapping evening Mass because he thinks the crowds outside his church will be too noisy
An animal shelter has received a box with a litter of 11 abandoned kittens - all named after the Belgian team
Even the Belgian monarchy is excited. Belgian coach Marc Wilmots told Twitter followers on Wednesday that he had them on the phone. "Fantastic to see how the Royal Family is supporting us."
Non-Belgians not wishing to miss out on the excitement can turn their name into something more appropriate on the Belgiumize me website. While the idea is not entirely original, it is drumming up excitement on social media.
Belgium's football union has for some time run a campaign to draw in families, launching several dares or challenges to supporters. At one international in 2013, they called on women to group together to form the biggest women-only crowd in Belgium's history.
The match against the USA scored record TV viewing figures in Belgium. Now the prime minister and both deputy prime ministers are heading to Brazil to see the match and Marc Wilmots has only one goal in mind: reaching the final.