Greece threatened by power cuts as workers strike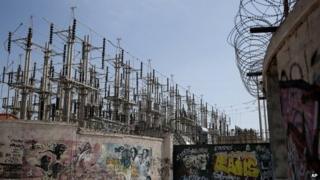 Many parts of Greece are facing power cuts, as workers from the Public Power Corporation (PPC) stage rolling strikes in protest at a government privatisation programme.
The walkout means many homes will have no electricity at the height of summer.
The Greek government has said there is "no way" it is abandoning the sale of part of the company.
The sale is one of the demands imposed by the EU and IMF as part of a major bailout since the 2008 economic crisis.
Greece's power transmission operator declared an amber alert on Thursday, warning there could be periodic interruptions to supplies during peak times, especially during the evening, Kathimerini website reported.
As many as 13 power plants were not working by Thursday afternoon, and staggered cuts in supplies were due to start depending on demand, Ta Nea newspaper said,
The Athens government is committed to privatising a 17% stake in the PPC, in which it now holds 51%. The deal also involves creating a new subsidiary representing about 30% of the utility's power output, then selling it to private investors.
Greece has survived for the past four years on two international bailouts totalling 240bn euros (£190bn; $325bn) granted on condition it implements tough austerity measures and sells off state property.
The government argues the deal, which parliament will vote on next week, will lead to improved competition and lower utility prices for customers.
Prime Minister Antonis Samaras has also warned he will use a mobilisation order to force strikers back to work if necessary.
But the unions argue electricity is a vital commodity which should stay under state control.
Meanwhile, new figures have emerged revealing how hard Greece's business sector has been hit by the six-year economic recession.
According to the National Confederation of Greek Commerce (ESEE), a total 130,000 commercial businesses have closed - a net loss of about 85,000 firms.
An estimated 575,000 small and medium-sized enterprises were forced to stop operating, and 265,000 new ones started up, it says.