'Throne of GAAmes' that sings of Irish sporting glory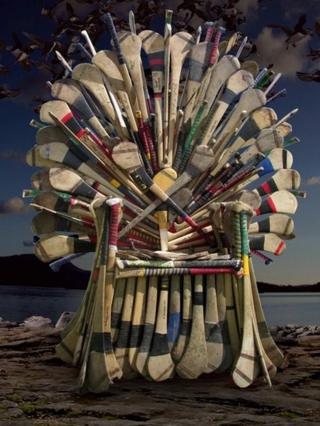 It is a throne that sings of Irish sporting glory.
A Dutch craftsman who made Ireland his home more than 20 years ago has fashioned a royal seat modelled on the famous iron throne from the HBO tv series Game of Thrones.
But this one has a twist. It is made from nearly 200 hurley sticks.
The distinctive sticks are used in the Irish sport of hurling, thought to be the world's oldest field game.
Two teams use hurley sticks, or camáns, to strike a ball or sliotar. It is one of the national sports of Ireland, played throughout the island, and a passion for many Irish people.
The idea of making something from old hurley sticks began when another man from County Clare, Nard Slabbers, spotted lots of old sticks lying about people's garages and sheds.
He chatted to sculptor Paul Berg from Mountshannon in County Clare.
What could be made from the sticks, they wondered. They hit on the idea of the distinctive throne from the US hit series which is filmed in locations across Northern Ireland.
"All of the younger ones knew exactly what we were talking about," said Paul.
"We talked to the local GAA club, Whitegate, and they were so excited. They handed over loads of sticks - we got bags and bags and bags of them."
It took four days for the throne to be made.
"The last day was a workshop at the Iniscealtra festival, I had put together the bones of the throne and it became more like knitting the wood. I was the director and the people at the workshop finished it."
The result proved an internet hit.
"It went viral," said Paul. People called it the "Throne of GAAmes" - a reference to Ireland's national sporting organisation the Gaelic Athletic Association (GAA).
Whitegate club provided the sticks and the resulting throne was presented back to them - there are now plans to tour the area with the throne bringing it from village to village as excitement mounts for Ireland's hurling finals later in the year.
"What is also special about this throne is that a lot of the players signed their hurley sticks before handing them over - there are names and signatures from famous players," said Paul.
And not all of the sticks are local - some of them come from great rivals, like the Kerry hurlers.
"And that is reminiscent of the real throne, forged from the swords and dagger of enemies and put together with a fiery breath," joked Paul.