Jedward rescued from incoming tide in Dublin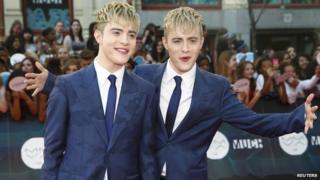 Jedward, the Irish pop group, has been rescued by the Irish Coast Guard after they became trapped by the incoming tide in north Dublin.
The twins, John and Edward Grimes, were with another family member when they got into difficulty on the Malahide Estuary late on Tuesday night.
The Irish Coast Guard received a report that the three had become "disoriented in the area due to the falling darkness and unusually fast incoming tide".
All three were recovered safe and well.
'Desperate'
The twins' mother, Susanna Grimes, told the Irish Sun that her sons became stranded on shifting sands and were "badly shaken" after their "terrifying" experience.
"The boys were getting more and more desperate as the water was coming in. Thank God the Coast Guard sent the helicopter up and it found them trapped on sands near Malahide," she told the paper.
A duty watch manager at the Irish Coast Guard's Maritime Control Centre said the initial call was received at 22:57 BST on Tuesday.
A coast guard team based in Skerries was sent to search the area and a Coast Guard helicopter was dispatched from Dublin Airport.
The helicopter crew spotted the stranded Grimes family members and used a floodlight to point out their location to rescuers on the ground.
Skerries coast guard members reached the group on foot shortly after midnight and reunited all three with the rest of their family.
Warning
It was only after the operation was safely concluded that Coast Guard staff realised they had been called out to rescue Jedward.
The pop duo, who rose to fame as contestants in the ITV talent show The X-Factor, thanked their rescuers and warned other young people to "be very careful around water and the sea".
It has been an eventful few days for those tasked with keeping a watch on Irish coastal waters.
Last week, a RNLI lifeboat crew from Dun Laoghaire was called out to rescue Mickey Mouse.
The crew was dispatched after several members of the public contacted the Maritime Control Centre reporting that an object had crashed into the water at Bray seafront.
There were fears that the object might have been a person paragliding in the area, but after a search, the RNLI crew recovered a large Mickey Mouse balloon from the water.