Sloviansk: Turning point for Ukraine?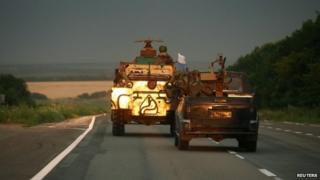 The hoisting of the Ukrainian flag over Sloviansk and Kramatorsk was not just a key moment in Kiev's continuing battle against its pro-Russian insurgency, it was also somewhat unexpected.
Ukrainian officials have claimed a string of successes in the past week, ever since President Petro Poroshenko announced he was resuming military operations: rebel positions eradicated, control restored over large stretches of the Ukrainian-Russian border and hundreds of casualties suffered among the insurgents.
But much of what was being reported could not be independently verified. And in any case, the government's campaign seemed to be progressing slowly, though steadily.
And then on Saturday morning, the insurgents abruptly abandoned two of their main bases of operations, cities which they triumphantly overran three months ago and have maintained as a symbol of their dominance in Ukraine's east.
The question that no-one can answer right now, however, is whether this in fact constitutes a turning point in the conflict.
The rebels still seem to have large numbers in their ranks, and significant stores of weapons and military hardware. They continue to control a decent amount of territory in the east, though this apparently has been circumscribed somewhat in recent days.
They say they are motivated and will fight to the last man.
Outmanned and outgunned
Nevertheless, there are indications that the fall of Sloviansk may indeed have been a watershed moment.
Even if this was a "tactical retreat," as some rebel leaders described it, the key word here seems to be "retreat". The insurgents are for the first time on the back foot, and government forces ascendant.
What is more, the reasons given for the withdrawal are significant. The rebels said they were simply outmanned and outgunned by the government forces.
Before the pull-out, the insurgents' main commander, Igor Strelkov, said that the strength of the government's bombardment was such that, were the militants to remain: "We will be exterminated in the course of a week, two weeks at most."
Mr Strelkov claimed Russia was withholding promised assistance. "Russia does not want to help [the insurgents] be reunited with their people. It's very hard to admit that we have had no help for three months," he said.
He also called on Russia to try to establish a truce or send "peacekeepers" into Ukraine.
Some observers regarded these comments as possible disinformation, and a ploy to justify a Russian military intervention.
According to Ukrainian and Western officials, Moscow is continuing to let fighters and equipment through its border with Ukraine.
Low-key Russia
The key variable here is the attitude of the Kremlin. And this, as ever, is difficult to pinpoint exactly.
The Kremlin denies the accusations that it is backing the insurgency, though it does not deny that many Russian citizens are fighting on the rebels' side.
These include a number of their leaders, as well as Mr Strelkov himself, a native of Moscow. Ukrainian officials say that he is in fact a former Russian military intelligence officer.
But Moscow has also been uncharacteristically low-key about the latest Ukrainian offensive.
Russian officials have typically condemned in the strongest terms past escalations in the violence. This time, however, aside from a call to re-establish a ceasefire, they have been more or less silent.
This position may alter in the coming days. And the insurgents, after regrouping in Donetsk and Luhansk, say they will launch a counter-offensive.
Whether or not the fall of Sloviansk and Kramatorsk were a turning point will only become clear later.
As President Poroshenko warned his countrymen, "Now is not the time for firework celebrations."