Sharp rise in Ukrainians seeking EU asylum - EASO data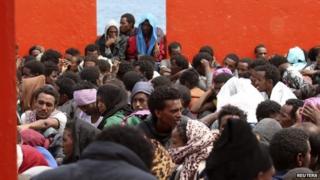 New data on asylum claims in the EU shows a sudden surge in Ukrainian applicants this year, as well as increasing numbers of Syrians and Eritreans hoping to stay in Europe.
There were 435,760 asylum claims in the EU last year - a 30% rise on 2012.
The Ukrainian applicants are widely spread across Europe and many are already working in the EU, the European Asylum Support Office (EASO) says.
But many more Ukrainians have fled to Russia amid clashes in eastern Ukraine.
Between March and May this year, there were more than 2,000 applications from Ukrainians compared with an average of 100 per month over the past 20 years.
Overall there was a 19% increase in claims in the first five months of 2014 compared with the same period last year, EASO said.
---
New asylum applicants in EU, 2013
Syrians - 46,960
Russians - 35,140
Afghans - 21,320
Pakistanis - 19,180
Somalis - 17,740
Kosovars - 16,905
Source: European Asylum Support Office
---
EASO director Robert Visser said most Ukrainians had entered the EU through traditional labour migration routes, many of them finding work in Poland and other neighbouring countries.
The increase "might be the first step in a longer trend", he said.
This year Italy has been particularly stretched to cope with an influx of migrants arriving on rickety boats from North Africa - in nearly all cases from strife-torn Libya.
There has also been a big rise in the numbers of Eritreans and Syrians among them.
Plea for Syrians
In 2013 about one-third of asylum claims in the EU were successful at the first stage of assessment.
Refugees fleeing war and/or persecution have a right to claim asylum, and under international law they should not be deported to a life-threatening situation.
It takes immigration authorities much time and money to filter illegal migrants and decide who has a genuine case for asylum.
The EU's Home Affairs Commissioner, Cecilia Malmstroem, urged the 28 EU member states to co-operate more in resettling refugees from the Syrian civil war, noting that Sweden and Germany were taking in a disproportionate share of them.
Syria's Middle Eastern neighbours have given emergency accommodation to some three million Syrian refugees, while millions more remain internally displaced in Syria.
Fewer than 100,000 have been given asylum in the EU, Ms Malmstroem said. The EU has set aside about 6,000 euros (£4,767; $8,165) for each refugee resettled in the EU, she added.
Asylum applications from Russians - overwhelmingly people from the troubled North Caucasus - also soared last year, but the numbers have dropped this year.
Ms Malmstroem said asylum seekers from the Western Balkans nations, including Albania, Bosnia-Hercegovina and Serbia, were "putting a lot of pressure on the asylum system".
The EU operates a visa-free travel regime for all of them except Kosovo, and Ms Malmstroem defended that system.
Nearly all the asylum claims from the Western Balkans are rejected, she pointed out, but processing the claims is a burden on the EU.