Greek public sector workers hold 24-hour strike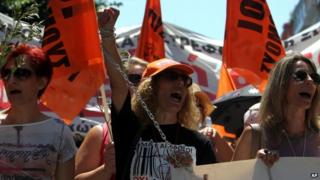 Public sector workers in Greece are holding a 24-hour strike to protest against continuing cuts in government spending.
Hospitals, tax offices, prisons and archaeological sites have been disrupted by the action.
The workers are protesting against austerity measures, including a 40% reduction to salaries and pensions.
The strike coincides with a visit from Greece's international creditors to check on the country's progress.
The BBC's Mark Lowen in Athens says that workers marched through the capital carrying banners and slogans hitting out at cuts and taxes that continue to cause so much anger.
One of the demonstrators, secondary school teachers' union President Themis Kotsifakis said Greece was being brought to its knees by the cuts imposed at the behest of the government, the EU and the International Monetary Fund.
"They are destroying the country's public services," he said. "They are firing teachers, school guards, cleaners and other state workers - this policy must be stopped or it will negatively affect all of society."
Our correspondent says that while the violence of past demonstrations is gone - the pain of austerity is still deeply felt in Greece, where more privatisations are in the offing and one in four Greeks is without a job.
The government insists that there is no alternative to its austerity path - which is bearing fruit. The deficit has been wiped out except for interest on the bailout and six years of recession are now due to end.
But Greece is still the Eurozone's problem child, our correspondent says, with debt remaining unsustainably high alongside a wide hole in next year's budget - which international lenders are in Athens to discuss.
Finance Minister Gikas Hardouvelis on Wednesday promised the pace of reform would not be reduced and a large-scale privatisation programme would be accelerated.
"[The year] 2014 is expected to be the first year in which the economy will show positive growth rates," he told a news conference south of Athens. "But that does not excuse any relaxation."