Ukraine conflict: EU leaders to push for new truce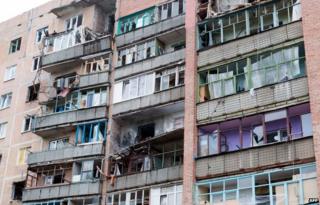 The leaders of France and Germany are to press Ukraine's president to agree to a new truce in eastern Ukraine when they speak by phone on Wednesday.
President Francois Hollande of France announced the planned talks with Germany's Chancellor Merkel and Ukraine's President Petro Poroshenko.
Ukraine says it will not talk to separatist rebels until they disarm.
A separatist official in Donetsk city, where the rebels are regrouping after losing ground, ruled out any new truce.
Government forces recaptured several large towns from the rebels in recent days after resuming their "anti-terrorist operation" in the Donetsk and Luhansk regions.
In Donetsk itself, a city of more than one million people, the rebels have vowed to keep fighting the government, which they regard as illegitimate.
More than 1,000 people, both civilians and combatants, are believed to have been killed since the uprising began in April.
'Liberated'
The French and German leaders previously discussed the conflict over the phone with Mr Poroshenko, who was elected president in May, on Friday.
Since that conversation, Mr Poroshenko and his government have hardened their rhetoric about the rebels, as they drive them back.
On Tuesday, Mr Poroshenko visited his troops in the battle-scarred town of Sloviansk, which the rebels abandoned after a government siege.
"Sloviansk was a symbol of terror and violence before," he said. "Today Sloviansk is a symbol of the liberated Donbass [as the Donetsk and Luhansk regions are known]."
Promising to restore order, he said the government was "open to dialogue" with those who were "ready today to lay down their arms". He also promised a "decentralisation of power".
Russian Foreign Minister Sergei Lavrov said on Wednesday that the rebels were ready for "constructive dialogue" but in order for that to happen, they should not be "forced to submit to the authorities in power in Kiev".
He called for a "humane approach" to those involved in the conflict, saying words like "subhumans and terrorists" should be avoided.
Mr Lavrov was speaking alongside Italian Foreign Minister Federica Mogherini, who is visiting Moscow. Italy has just taken over the presidency of the EU.
'No compromise possible'
In an interview for Russia's Komsomolskaya Pravda newspaper, the deputy prime minister of the self-proclaimed Donetsk People's Republic, Andrei Purgin, said no truce was possible with the government.
He accused the Ukrainian military of taking 400 people "hostage" and of failing to provide "humanitarian corridors" in the conflict zone.
"Ukraine... doesn't need people here so it bombs without regard to anyone," the rebel official said. "Three months ago we could still chat about federalism but now no compromise is possible."
The rebels' military commander, Igor Strelkov, said separately that his forces were not strong enough to defend Donetsk city from the army. The separatist leadership planned to recruit a further 8-10,000 fighters, he said, with the promise of pay so that they could provide for their families.
The violence erupted after the separatists declared independence in the Donetsk and Luhansk regions, following Russia's annexation of Crimea from Ukraine
Mr Poroshenko's predecessor as president, Viktor Yanukovych, was overthrown in February after months of street protests in the capital, Kiev, at his pro-Russian policies.
---
Human cost of conflict
At least 250 civilians killed in eastern Ukraine since April, according to Ukrainian and rebel reports
Nearly 200 soldiers killed and 619 wounded since April, according to Ukrainian defence ministry
At least 800 rebels killed since April, according to rebels
At least 110,000 people have left Ukraine for Russia this year to date, most of them from eastern regions, according to the UN
Some 54,400 people have been displaced within Ukraine itself, the UN says
---
Are you in the area? Do you have any information you would like to share? Please send us your comments. You can email us at haveyoursay@bbc.co.uk using the subject line 'Ukraine'.