Edward Snowden applies to extend his stay in Russia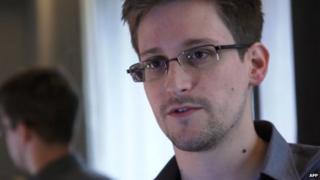 US whistleblower Edward Snowden has officially asked to extend his stay in Russia after his visa expires, his lawyer has told the BBC.
Anatoly Kucherena confirmed that paperwork had been submitted to Russia's Federal Migration Service.
The current document granting him temporary asylum expires on 31 July.
Mr Snowden fled the US in May 2013 and has been living under temporary asylum in Russia. Last year, he fed a trove of secret intelligence to news outlets.
"We have gone through the procedure of getting temporary asylum... We have submitted documents for extending his stay in Russia," Mr Kucherena told reporters on Wednesday.
The lawyer did not say for how long Mr Snowden wanted to stay in Russia, or whether he wanted to become a Russian citizen.
Mr Snowden became stranded in the international airport at Moscow last year while travelling from Hong Kong to Cuba. He was in effect trapped in the airport's transit zone for several weeks before the Russian government allowed him refugee status for a year.
He went to Russia shortly after leaking details of the National Security Agency's (NSA) international surveillance and telephone-tapping operation.
Russia's decision to give asylum to Mr Snowden - a former NSA contractor - was strongly criticised by the United States.
'Strictly controlled'
Correspondents say that while Mr Snowden has in recent weeks increased his media visibility in Russia by giving several closely monitored interviews, he has conceded that he would like to go home, where he faces spying charges that could result in a substantial jail sentence.
News of his moves to extend his visa came as prosecutors in Germany searched the home of a defence ministry employee suspected of spying - the second such case in a week.
The US has not denied allegations that the intelligence agency employee arrested earlier this month was passing secret documents to the NSA.
The two countries, the biggest members of the Nato alliance, have been close allies for decades but relations were strained last year when it was revealed - from paperwork leaked by Mr Snowden - that the NSA had been monitoring German Chancellor Angela Merkel's mobile phone calls.
In April the whistleblower appeared on Russian TV to ask President Vladimir Putin whether Russia "ever intercepted, stored or analysed the communications of millions of individuals".
In a reply widely condemned by analysts in the West as untrue, Mr Putin, an ex-KGB officer, said that "unlike the US, we don't have a mass system of such interception, and according to our law it cannot exist".
He added: "Our special services, thank God, are strictly controlled by society and by the law and are regulated by the law."