Ukraine conflict: Russia charges pilot over deaths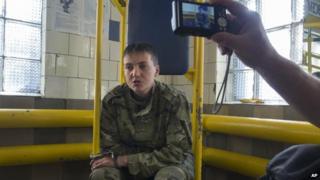 Russia has charged a female Ukrainian army pilot with complicity in the murder of two Russian journalists.
Nadiya Savchenko, 33, was reportedly fighting in a volunteer battalion against pro-Russian separatists near Luhansk in east Ukraine.
Last month she took part in an attack on a rebel checkpoint where two Russian TV journalists were fatally wounded.
Ukraine has accused Russia of abducting her and has demanded she be released and allowed home.
Ukrainian government forces are currently battling rebels in the east and have recaptured several large towns in recent days.
More than 1,000 people, both civilians and combatants, are believed to have been killed since the uprising began in April.
'Close contact'
Ms Savchenko, a helicopter pilot working with the pro-government Aidar battalion, was apparently captured by separatists after the attack on the checkpoint.
She is now in a Russian detention centre but it is unclear how she got there.
Russia says she crossed the border voluntarily and illegally, disguised as a refugee.
Ukraine said she was forced over the border by the separatists.
The Ukrainian foreign ministry said in a statement: "This is yet more confirmation that the terrorists plan and carry out their crimes in Ukraine in close contact with the intelligence services of the Russian Federation.
"By openly abducting citizens of Ukraine on the territory of their state, the Russian authorities not only violate all international norms but also exceed elementary norms of decency and morality."
Russia's Investigative Committee has accused Ms Savchenko of tipping off Ukrainian forces about the positions of the journalists. The two Russian state-owned TV journalists were hit by mortar fire.
Ms Savchenko has insisted she was acting to protect Ukraine's territorial integrity.
Violence erupted in the east in April after the separatists declared independence in the Donetsk and Luhansk regions.
Russia annexed Crimea from Ukraine after pro-Russian President Viktor Yanukovych was overthrown in February.