Galway pub pays price of Germany success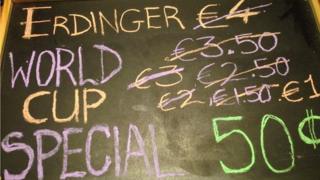 A pub in Galway in the Republic of Ireland is counting the cost of German success in Tuesday night's World Cup semi-final against Brazil.
Germany trounced the host nation in the battle for a place in the final, by seven goals to one.
As part of a promotion during the match, the Róisín Dubh pub decided to reduce the price of a pint by 50 cents for each goal scored.
Beers from both countries were selected for the price reduction.
The German brew, Erdinger, was chosen as the European offering, with the Brazilian beverage, Brahma, also on offer for fans watching the match.
Each drink was on sale for 4 euros at the start of the game but after five German goals in the first half hour of play, the price of a pint of Erdinger had dropped to 1 euro 50 cents by half time.
The European team went on to score two more goals, meaning that customers could purchase a drink for 50 cents for the last 11 minutes of the game.
Brazil's only goal came from Oscar in the 90th minute but the price reduction for Brahma only lasted for seconds. Prices returned to normal after the final whistle.
Bar owner Gugai McNamara said the result had taken them by surprise.
"We realised we were in trouble quite early on - my poor bar manager had a look of panic on his face when I walked in," he said.
"It was actually cheaper to buy a pint than a packet of crisps, but the customers were very responsible - people weren't ordering 15 or 20 pints at a time."
Word quickly began to spread on social media, and the pub was packed by the end of the match.
"People were flocking to us from other nearby pubs, and there was a huge uproar every time there was a goal scored," he said.
Mr McNamara said the drinkers' windfall on Tuesday night meant there was another full house for the following night's semi-final between Argentina and the Netherlands.
Luckily for him, if not his patrons, it finished goalless after extra time before Argentina won on penalties.