Missing climber's body found in Alps after 32 years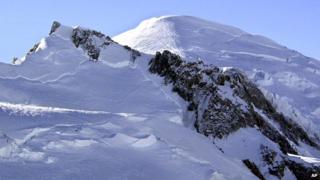 Mountain climbers have discovered the frozen body of a young climber who disappeared 32 years ago in the French Alps, French media reports say.
Patrice Hyvert was last seen alive on 1 March 1982, when he took a solitary climb in the Mont Blanc mountain range on the French-Italian border.
The 23-year-old did not return after the weather took a bad turn.
Rescue officials say the mountaineer's frozen body was found with his ID and all of his ski equipment still on him.
His body was found by two climbers on 3 July on the Talefre glacier at an altitude of 2,687 metres, local newspaper Dauphine Libere reported.
His father, Gerard, told RTL radio that he had given up hope of finding his son's body.
"I'm a mountain man, and I would have preferred him to stay up there...He was better on a mountain than in a coffin. He was in his element," he said.
Thousands of climbers risk their lives on the dangerous terrain and inclement weather of the Mont Blanc range, with dozens killed each year.
Nine climbers died in the French Alps when they were swept away by an avalanche in 2012.