Germany 'right' to expel CIA official in US spy affair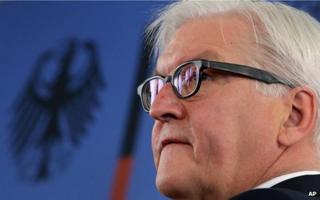 The German government says its decision to expel the top CIA official in Berlin was "a fitting reaction to the breach of trust" and it has urged "honest" security co-operation with the US.
German Foreign Minister Frank-Walter Steinmeier was speaking about two cases of alleged spying by the US, which prompted Thursday's expulsion order.
He plans to discuss the spy allegations with US Secretary of State John Kerry.
Germany wants to "revive the partnership" with the US, he said.
His talks with Mr Kerry will take place in Vienna this weekend, on the sidelines of a meeting focused on Iran's controversial nuclear programme.
German-US relations were already strained following the revelation last year that US agents had monitored Chancellor Angela Merkel's phone.
Co-operation with the US "must be sustained not only by trust, but also by mutual respect", Mr Steinmeier said.
The US embassy official facing expulsion is said to have acted as a CIA contact who received secret documents.
A German intelligence official was arrested last week on suspicion of spying.
An inquiry has also begun into a German defence ministry worker, reports said.
The chairman of the Bundestag (parliament) committee overseeing the secret service said the action had been taken because of America's spying on German politicians and its failure to co-operate and provide adequate responses.
The US has not denied allegations that the German intelligence employee arrested last week was passing secret documents to the US National Security Agency (NSA).
---
Timeline: Germany spy scandal
October 2013: German Chancellor Angela Merkel calls US President Barack Obama after revelations that the US may have spied on her mobile phone
June 2014: Germany announces an investigation into the claims
4 July 2014: A suspected US spy said to be working for the German intelligence agency is arrested
9 July 2014: A second case emerges as searches are carried out at the defence ministry
10 July 2014: German government orders expulsion of CIA official
---
On Thursday, Mrs Merkel said spying on allies was a "waste of energy".
"We have so many problems, we should focus on the important things," she said.
"In the Cold War maybe there was general mistrust. Today we are living in the 21st Century. Today there are completely new threats."
The scale of the US agency's surveillance was revealed by former NSA contractor Edward Snowden, who fled the US and is now a fugitive in Russia.
The German intelligence official arrested last week was alleged to have been trying to gather details about a German parliamentary committee investigating the NSA spying scandal.