Merkel goes for goal with Germany at World Cup final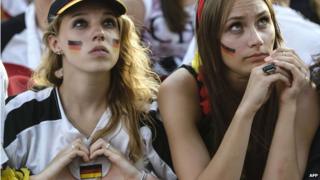 You half wonder if Germany might apologise for winning the World Cup on Sunday. After the total demolition of the Brazilian side in the semi-final, victorious German footballers tweeted a torrent of sympathy.
Of course, it is hard to know how much is the work of PR agencies on their behalf, but the sentiment was out there and appreciated.
"Brazil, I love you", "Brazil will always be the land of soccer" and "You have a beautiful country, wonderful people and amazing footballers" - so tweeted the victorious German footballers in an out-pouring of magnanimity which won them friends.
Germans remain uneasy about gloating - but perhaps less uneasy after Sunday.
In the run-up, it is true the flag has been flown from cars and balconies - but not that much in a country that has barely stopped for breath in what seems like the inevitable route to the World Cup final.
Germans will tell you that triumphal nationalism tied to a round ball is still not fully acceptable.
Victory assured?
But, whatever the qualms, if Germany beats Argentina, there will be tumultuous celebration. It would be the first time a European side has won a World Cup in South America. The team would return to be mobbed by hundreds of thousands at the Brandenburg Gate in Berlin.
The excitement across Germany is high and rising at the prospect of lifting the World Cup for the fourth time after a long wait (1954, 1974, 1990 were the previous victories, and then only as West Germany). This would be the first time a united Germany has won the title.
In Berlin, the Fanmeile (Fan Mile) is cordoned off with lines of big screens stretching through the Tiergarten and enough beer and sausage on order to feed 100,000 people.
Across the country, beer sales are already up 15% this World Cup and a German victory would no doubt empty the barrel.
Artificial beaches have rows of deckchairs ready for the game. Any restaurant which does not have the obligatory screen will be deserted.
The stadium at FC Union in Berlin has been converted into a living room after fans were invited to bring their own sofas. There are now 750 of them stretched across the pitch in front of the screen.
Bild, Germany's most popular newspaper, is devoting acres of space to the World Cup. Headlines are so big they could be read from the Moon - or Argentina.
There is a universal confidence in Germany that the result will turn out right. Ask anyone and they will say that Germany is a team while Argentina is Messi.
Close down the Argentinian star, they say, and victory is assured. Probably - but there is many a slip between plan and field.
Clenched fists
The Maracana Stadium in Rio might not feel that hostile at the final. All those friendly tweets to Brazilians might work some sympathy. And Brazil and Argentina are rivals - two big beasts sharing the same turf.
Angela Merkel will be there and a victory for Germany will be a victory for her. She has tied herself to the team in a way which has brought her support back home.
After the 4-0 trouncing of Portugal, she was there in the dressing room, posing for selfies and for a team photo. The Forsa polling institute said there was an up-tick in support for her.
She is not known for public displays of emotion - quite the opposite - but when Germany scores, she has a gesture which has become something of a trademark: she jumps to her feet with both her fists clenched in delight, a bit like a little girl overcome with surprise.
It is a brilliant image which plays very well on the front pages back home.
How many times will she rise in delight on Sunday?