Turkey PM Erdogan to push for a new constitution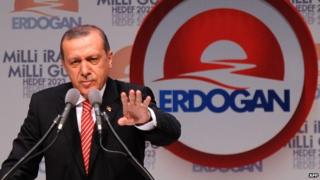 Turkish PM Recep Tayyip Erdogan has pledged to push for a new constitution if he is elected president.
Such a move would enable Mr Erdogan to attach more powers to the presidency, which is largely a ceremonial role.
Most analysts expect him comfortably to triumph in the 10 August elections.
Mr Erdogan has been prime minister since 2003 but is barred from seeking a new term. Critics say he has become more authoritarian in the midst of corruption allegations.
He accuses political foes of plotting against him. Steady economic growth has helped to secure him successive election triumphs.
His Islamist-rooted AK Party dominates parliament - a power base that has enabled him to challenge the country's secularist establishment.
"A new constitution on the path to a new Turkey will be one of our priorities... A new constitution means a new future," he told thousands of cheering supporters at a rally in Istanbul.
Opponents suspect him of undermining the strict separation of religion and state, and deplore what they see as abuse of power.
He outlined four priorities ahead of 2023, when Turks celebrate the 100th anniversary of the founding of the modern Turkish state by Mustafa Kemal Ataturk.
These are:
Advancing democracy
Working towards a "normalisation" of politics and society
Improving social welfare
Taking a place among the top 10 world economies.
"The old Turkey is now a thing of the past," he said, stressing that all Turks would benefit from the changes, regardless of whether they voted for him.
"It is now a country where people do not wake up every morning fearing another crisis, it is a country where people have hope for the future," he said.
Turks will vote directly for their president in a two-round election next month. Parliamentary elections are scheduled for next year.
---
Profile: Recep Tayyip Erdogan
Born in 1954 in the city of Rize on Turkey's Black Sea coast
Sold lemonade and sesame buns on the streets of Istanbul to earn extra cash as a teenager
Attended an Islamic school before obtaining a degree in management from Istanbul's Marmara University
A one-time semi-professional football player
Served as mayor of Istanbul 1994-1998
Jailed for four months in 1998 on charges of inciting religious hatred
Led his AK Party to a landslide election victory in 2002
Ran for parliament and was named prime minister in 2003
Won second term in 2007 and a third term in 2011
---