Ronan O'Gara: Irish rugby star sued over £60,000 kitchen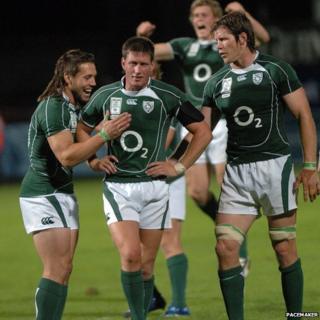 Irish rugby star Ronan O'Gara has settled a dispute over a kitchen worth 76,000 euros (£60,000) that was fitted in his County Cork home.
The firm that supplied the kitchen sued O'Gara and his wife, alleging they had failed to pay more than half the bill.
Cork Circuit Court was told the couple had reached a settlement with House of Coolmore Kitchens and both sides had entered a confidentially agreement.
O'Gara, who was Ireland's all-time leading points scorer, has retired.
The case against the player and his wife, Jessica O'Gara, was taken by the House of Coolmore Kitchens, a kitchen manufacturer based in Carrigaline, County Cork.
'Promotional photographs'
The firm alleged that in June 2006, it made an agreement with the couple to supply kitchen units, appliances and other furniture at their home in Maryborough Hill, Cork.
The court was told that the couple had agreed to pose for promotional photographs in their new room, and that image rights to the pictures were to be used as part payment for the kitchen.
The company alleged that the O'Garas paid 35,238 euros (£28,000) towards the bill, but then refused to approve the firm's promotional photographs for publication.
The firm claimed that having refused to release their image rights, the couple then also refused to pay the outstanding balance for the kitchen - a sum of 40,928 euros (£32,500).
The Irish state broadcaster, RTÉ, said the confidential settlement was understood to be in the region of 27,000 euros (£21,500).
O'Gara, who played for Ireland and Munster, is also the leading points scorer in the Six Nations competition and the "most capped player in Heineken Cup history".