Ukraine conflict: Air strikes 'hit Luhansk targets'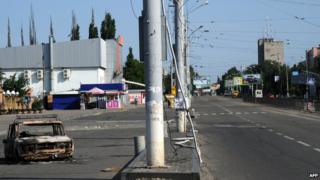 The Ukrainian air force says it has delivered "five powerful air strikes" on targets in the eastern Luhansk region in a bid to end a rebel blockade of a strategic airport there.
Several targets were hit near the airport in the rebel-held city of Luhansk, a military spokesman said.
Ukraine's military later said the airport had been "unblocked" and the army had retaken several villages.
Separately, a Ukrainian military plane was shot down in the region.
The An-26 transport aircraft was hit at an altitude of 6,500m (21,325ft), a statement on Ukraine's presidential website said.
It said the plane had been targeted with "a more powerful missile weapon" than a shoulder-carried missile launcher, and that it had probably been fired from Russia.
The statement added that the plane's crew members had survived and had since contacted the Ukrainian military.
Russia has made no public comments on the Ukrainian claim.
Direct talks plea
Military spokesman Oleksiy Dmytrashkivskyy told Ukrainian television: "The [Ukrainian air force] delivered five powerful air strikes on targets where militants and hardware were concentrated. Air strikes were delivered on targets near the Luhansk airfield; two strikes were made near Izvaryne and one near Lysychansk [both in Luhansk region]."
A resident in Luhansk has told the BBC that some air strikes hit Luhansk on Monday.
Meanwhile, the rebels claimed they had destroyed a Ukrainian armed convoy near the airport.
Fighting in the area has intensified since a rebel rocket attack near the Russian border on Friday, in which at least 19 government soldiers were killed.
Ukrainian President Petro Poroshenko has vowed tough retaliation for that attack.
Tensions rose further over the weekend when Russia accused Ukrainian forces of shelling across the border, killing one person and wounding two others.
At least 15 civilians were killed in Luhansk and the neighbouring Donetsk region on Sunday, reports say.
Germany and Russia have urged direct talks between Kiev and the rebels.
And the UK and US have renewed calls for Russia to de-escalate the situation in eastern Ukraine.
In a telephone conversation, British Prime Minister David Cameron and President Barack Obama stressed the need for Moscow to take further steps towards peace or face further sanctions.
Separatist rebels have been fighting the government in Kiev since declaring independence in Luhansk and the neighbouring region of Donetsk in April.
The government began an "anti-terrorist operation" in April to crush the rebellion in the eastern regions.
More than 1,000 civilians and combatants are believed to have died in the fighting, which followed Russia's annexation of Crimea in March.