Dublin guide - Five alternatives to Garth Brooks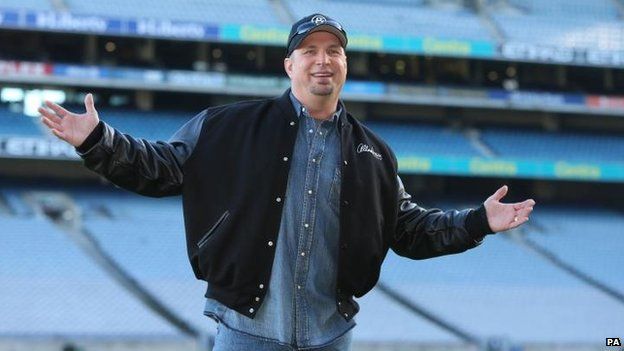 The final dice has been thrown and the final piece of the puzzle proved too difficult to place - Garth Brooks is not getting on a plane to Dublin.
Ticketmaster will begin the refund process for the 400,000 disappointed fans in the next few days.
But what if you still fancy a few days in the Irish capital?
We cast our net and came up with a few ideas to help you pass the time.
If you are willing to return to the scene of the crime and haven't fallen totally out of love with Croke Park, the stadium also houses a museum and carries out tours of the home of Gaelic sports in Ireland.
The museum, open since 1998, celebrates hurling and Gaelic football and is open daily.
Visitors can experience the history of the games, how they have travelled the world and see if they have what it takes to be a sporting great in the interactive zone.
For those with a head for heights and a desire to see Dublin from above, there's the Etihad Skyline tour. Forty four metres and 100 steps above the ground the viewing platform provides a birds-eye view of the pitch and panoramic views of the city.
Tours are also available of the Aviva Stadium, the home of Irish rugby and football.
Founded in 1095 the Church of Ireland parish welcomes thousands of visitors every year to visit its crypts and mummified remains, even Bram Stoker is said to have visited.
Underneath the church are five burial vaults where a constant dry atmosphere caused the mummification of bodies and the preservation of coffins.
To be found in the vaults are the remains of some of Dublin's most influential families of the 17th, 18th and 19th centuries.
Brothers Henry and John Sheares were also laid to rest in St Michan's. Prominent lawyers, they visited Paris during the French Revolution and returned to Ireland to join the United Irishmen.
Leading figures in the movement, the brothers were arrested and executed for their part in the 1798 Rebellion in Ireland.
Entry to the church is free, but there is a small charge to descend into the vaults.
Whether you truly believe, or are just willing to suspend disbelief for a few hours, Dublin has a museum devoted to the little folk and all things mythological.
The story telling experience aims to bring Irish folklore and stories to the masses.
Visitors can hear about the first-ever sighting of a leprechaun in the 8th century and hopefully find out if that pot of gold really exists.
The museum promises to take you "deep into Irish and Celtic culture to discover what really lies behind the well-known tales of Irish cultural icons".
And there's even a 20% discount if you email them a copy of your Garth Brooks ticket.
There are a host of museums and historical attractions across Dublin. The National Museum has three locations in Dublin and admission is free.
Some of the world's most celebrated writers come from Dublin and the well-read among you could easily pass a few hours at Dublin Writers Museum.
Now for something completely different. Possibly the most secretive spot on the list - and the cheapest - is the Ferocious Mingle Marcade.
A fancy dress-themed, indoor market, it features a plethora of wacky stalls run by Dublin traders, an artisan coffee shop, an art studio and furthermore what it claims is Dublin's "tiniest" cinema.
Located on Dublin's Camden Street, it is hailed as one of the city's hidden gems and is free to visit.
Inside, stalls full of everything creepy, kooky and downright strange can be found next to fancy trinkets and dusty antiques.
Visitors can find out what their future holds with a trip to the market's 'fortune teller' or they can settle down in the cinema to watch a silent film.
The market also has a stage, which frequently hosts performances by bands and other musical acts.
To top it all off, visitors are encouraged to show up in fancy dress - anyone who arrives wearing a bowler hat, suit or flapper dress is most welcome.
For those who want to escape the crowds and heat of the city centre, the coast is easy to get to and offers a scenic and interesting alternative.
Dotted along the coastline is a network of circular forts, known as Martello towers, that were built in the late 18th and early 19th centuries amid fears of an invasion by Napoleon.
These days, some of them are home to history of a different kind.
About a century after it was built, the Martello tower in Howth was used by Marconi for signal tests of his wireless telegraphy instrument, and appropriately enough, the tower now houses Ye Olde Hurdy Gurdy Museum of Vintage Radio.
Opened as a labour of love by curator Pat Herbert, the tower was donated by the local council for him to display his collection of vintage radios, gramophones and other equipment accumulated over 60 years.
Like so many Dublin landmarks, Martello towers have a big association with James Joyce, whose novel Ulysses provided a portrait of the city's life and landscape.
Joyce lived for a short time in the tower in Sandycove, near Dún Laoghaire, and it featured in the novel. Because of this, it is probably the best-known one, and it remains open as a museum devoted to his work.
If this doesn't appeal, you could take a dip beside the tower at Forty Foot, a famous bathing spot. Once a gentlemen-only swimming club, women and children are now also allowed to dive into the deep-water inlet.
For more on what to do in the Republic of Ireland capital go to the Visit Dublin website.