Irish protest as 'rusty' minister Joe McHugh books course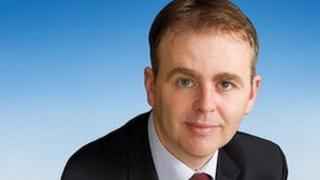 An Irish language group is protesting at the appointment of a new minister for the country's Irish speaking regions (Gaeltacht) who is "a bit rusty" in the language.
Donegal minister Joe McHugh has booked himself for a refresher course in Irish following his appointment.
Taoiseach (Prime Minister) Enda Kenny said he might be "a bit rusty" and was "getting it up to standard".
But language group Conradh na Gaelige has challenged Mr Kenny's decision.
The group said they were not questioning Mr McHugh's ability, but rather the taoiseach's decision to assign Gaeltacht affairs to him, when he is not proficient in Irish.
"This is the first time since the establishment of the state that the minister of state for the Gaeltacht is not proficient in the Irish language," said Conradh's general secretary, Julian de Spáinn.
"This further lowers the status of the Irish language and the Gaeltacht community."
He accused the current government of not prioritising the needs of the Gaelteacht community.
A protest has been organised for lunch-time outside Mr Kenny's headquarters in Dublin.
Mr McHugh's appointment was described as "shocking and disappointing" by opposition TD (member of parliament) Eamon Ó Cuív of Fianna Fail.
He called it a "slap in the face" for Gaeltacht communities and called on the taoiseach to rectify what he termed a "significant error".