Ukraine conflict: 'White power' warrior from Sweden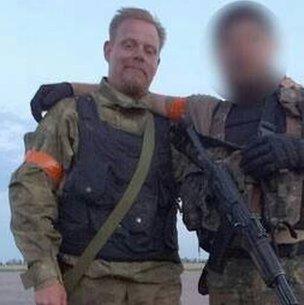 The appearance of far-right activists, both foreign and home-grown, among the Ukrainian volunteers fighting in east Ukraine is causing unease.
Mikael Skillt is a Swedish sniper, with seven years' experience in the Swedish Army and the Swedish National Guard. He is currently fighting with the Azov Battalion, a pro-Ukrainian volunteer armed group in eastern Ukraine. He is known to be dangerous to the rebels: reportedly there is a bounty of nearly $7,000 (£4,090; 5,150 euros) on his head.
In a telephone conversation from an undisclosed location, Mr Skillt told me more about his duties: "I have at least three purposes in the Azov Battalion: I am a commander of a small reconnaissance unit, I am also a sniper, and sometimes I work as a special coordinator for clearing houses and going into civilian areas."
As to his political views, Mr Skillt prefers to call himself a nationalist, but in fact his views are typical of a neo-Nazi.
"It's all about how you see it," he says. "I would be an idiot if I said I did not want to see survival of white people. After World War Two, the victors wrote their history. They decided that it's always a bad thing to say I am white and I am proud."
Mr Skillt believes races should not mix. He says the Jews are not white and should not mix with white people. His next project is to go fight for Syrian President Bashar al-Assad because he believes Mr Assad is standing up to "international Zionism".
Not all of Mr Skillt's views are widely shared in the Azov Battalion, which is about 300-strong in total.
He says his comrades do not discuss politics much, though some of them may be "national socialists" and may wear swastikas. On the other hand, "there is even one liberal, though I don't know how he got there", he adds, with a smile in his voice.
Mr Skillt says there is only a handful of foreign fighters in the Azov Battalion and they do not get paid. "They see it as a good thing, to come and fight," he explains. However, Mr Skillt is expecting more foreigners to join soon: he says there is now a recruiter who is looking for "serious fighters" from outside Ukraine.
The key figures in the Azov Battalion are its commander, Andriy Biletsky, and his deputy, Ihor Mosiychuk.
Andriy Biletsky is also the leader of a Ukrainian organisation called the Social National Assembly. Its aims are stated in one of their online publications:
"to prepare Ukraine for further expansion and to struggle for the liberation of the entire White Race from the domination of the internationalist speculative capital"
"to punish severely sexual perversions and any interracial contacts that lead to the extinction of the white man"
This, according to experts, is a typical neo-Nazi narrative.
The Azov Battalion was formed and armed by Ukraine's interior ministry. A ministerial adviser, Anton Gerashchenko, got angry when I asked him if the battalion had any neo-Nazi links through the Social National Assembly.
"The Social National Assembly is not a neo-Nazi organisation," he said.
"It is a party of Ukrainian patriots who are giving their lives while the rich Europeans are only talking about supporting Ukraine. When, may I ask, will English people come here and help us fight terrorists sent by Russia's President [Vladimir] Putin, instead of lecturing us on our moral values or people's political affiliations?"
Mr Gerashchenko was adamant, however, that there were no foreign citizens fighting in the Azov Battalion.
"There are foreign journalists, from Sweden, Spain and Italy, who have come to report on the heroic achievements of the fighters in their struggle against terrorism," he said.
He insisted he had never heard of Mikael Skillt, the Swedish sniper.
Ukraine is a democratic state, which held a democratic election in May, where the far right and nationalist parties got hardly any votes. These views are not popular with the electorate.
But Anton Shekhovtsov, a prominent expert on far-right and neo-Nazi movements in Europe, believes the Ukrainian government should be clear about whom it is arming to fight for Ukraine's democratic cause.
"It is a pressing concern, especially with regards to the anti-terrorist operation," he said. "In my view, the war against pro-Russia separatists is the war for democratic values. Neo-Nazis are as dangerous as pro-Russia extremists in eastern Ukraine."
Related Internet Links
The BBC is not responsible for the content of external sites.