Russian shares fall on Ukraine sanctions boost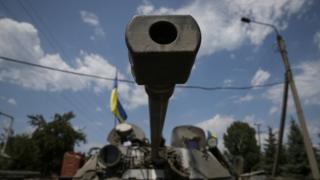 Russian shares have fallen sharply after US and EU bolstered sanctions against Russia over its alleged support for separatists fighting in Ukraine.
The sanctions targeted major banks, defence firms and energy companies including Rosneft.
The RTS stock index, which is based on the share prices of 50 of Russia's most prominent firms, fell by more than 4%.
Prime Minister Dmitry Medvedev called the sanctions "evil" and said that Russia might increase defence spending.
The boosted sanctions were imposed against Rosneft and fellow energy company Novatek, plus two banks: Gazprombank, and the state-owned Vnesheconombank.
Shares in energy giant Rosneft fell by over 5% in Thursday morning trading, and Novatek shares lost 11% in value.
The Moscow-based Micex stock exchange, which trades in roubles, fell by over 2.6%.
BP ripples
BP said that sanctions appeared to restrict access to US medium and long-term debt, and to equity capital markets, for the firms being sanctioned.
The energy giant, which owns around a 20% stake in Rosneft, gets about a quarter of its oil from Russia.
BP shares fell over 1.5% on Thursday morning.
Analysis, BBC Business editor Kamal Ahmed:
BP executives will be trawling through the new US sanctions regime against Russia with some nervousness.
The oil giant has a 20% stake in Rosneft, which is likely to see its cost of funding rise, given that the pool of international banks it can use for longer term funding will shrink.
That could ultimately affect the annual dividend BP receives from its stake - which was about $500m last year.
BP also runs two major projects with Rosneft - a $1.5bn Russian shale oil exploration joint venture and a refineries operation in Germany.
Anything that has a negative impact on its Russian partner could ultimately feed through to BP.
The other concern will be whether the European Union follows the US lead and tightens its sanctions regime against Russia. The European Council is looking at further measures, and if it follows the US (unlikely given Europe's stronger reliance on Russian energy supplies) that will put further pressure on Rosneft's funding model.
Russian PM: Sanctions 'evil'
Previous sanctions by Washington and Brussels were limited to individuals in Russia and Ukraine and a number of companies.
The bolstered sanctions drew a strong reaction from the Russian prime minister on Thursday.
"Any sanctions are evil," Mr Medvedev said. "The international record shows that such sanctions have never been able to bring anyone to their knees."
He added that Russia will "have to pay more attention" to its defence and security spending in the light of the sanctions, and referred to the Cold War.
"We may go back to the 1980's in relations with the states which are declaring these sanctions. This is sad," he said.